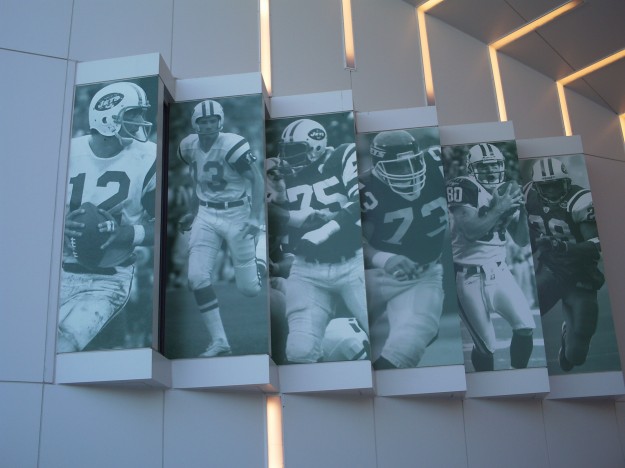 If Iowa DE Adrian Clayborn slips to the Jets, due to concerns about his shoulder, he might be too good to pass up. Here is a chat with the St. Louis-native . . .
Q)Your numbers were down this year, compared to your junior year. What was the difference?
Clayborn: I'd tell them to go look back at the film and look at my production. I was still playing hard, still making plays, just not as many as I made my junior year.
Q)What is your best position?
Clayborn: I can play regular 4-3 defensive end, I can play a three-tech(nique) in a 4-3, I can play a five-tech(nique) in a 3-4, or lose a lot of weight, I can play (3-4) outside linebacker.
I'm most comfortable with the 4-3 because I've been playing it for four years.
Q)What are your strengths?
Clayborn: Physical, tough and hard-nosed are strengths.
Q)Do you think your versatility will make you attractive to a lot of teams?
Clayborn: There's a lot of great defensive ends in this class. Having a range of positions that you can play is definitely going to help me out.
Q)Getting back to last season. Any other reasons your numbers were down?
Clayborn: Just double-teams and triple-teams and tight ends chipping me and running backs chipping me. There was a lot of different stuff going on. It was frustrating at the beginning of the season, not knowing how to take on that type of stuff.
It's just tough to get to the ball when you're getting it from all ways.
Q)Who are the best tackles you faced in college?
Clayborn: Besides Bryan Bulaga, probably Gabe Carimi of Wisconsin.
Q)Why didn't you come out after that great junior year?
Clayborn: I was focused on coming back and getting my degree and finishing my career.
Q)Any regrets about that decision?
Clayborn: Not really. Things worked out.
Q)Have a lot of teams asked you about the Erb's Palsy in your right shoulder?
Clayborn: I've heard that too much. It's something that happened at birth. Nerve damage in my right shoulder. It's not a big deal. I've been playing with it since I was in seventh grade.
Of course teams are going to try to see what it's all. It's not really a big deal.
Q)What do you need to improve?
Clayborn: Definitely pad level. I think I play high sometimes when I'm guessing or don't quite know what I'm doing. Pad level and staying low will make me a great player.
Q)What do you say when people question your character?
Clayborn: I'm not really concerned about anything. People who know me, they know my personality, they know my character. It's just people who don't know about me. Once they get to know me, it's not a big deal. I haven't come across any coaches that really see it as a big concern.
---