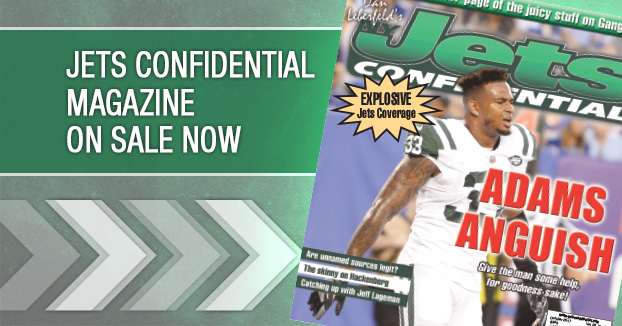 This is a Jets need that most people don't focus on, but it exists. Let's examine this somewhat surprising need a little closer.
[private]
The Jets need another nose tackle, and Washington's Danny Shelton should be a consideration at six.
Late in the season, former Jets defensive coordinator Dennis Thurman suggested that Damon Harrison deserved Pro Bowl consideration.
I didn't agree with that statement at all. I just didn't see it.
To me, "Big Snacks' took a little step back in 2014, after a surprising breakout season in 2013.
There was speculation he was playing hurt. Perhaps that is the reason we didn't see the same guy as 2013.
He was pushed around too much in 2014, often not playing as stout as you need to be as a 3-4 nose tackle. At that position, you often have to tie up a couple of blockers to keep the linebackers clean.
Too often, one blocker too care of Harrison, and that is very bad in this scheme.
I will give you a few examples in the Jets' blowout loss to Buffalo in Detroit.
On the Bills' first series, Fred Jackson had a gain of six to the left side. On the play, Harrison was pancaked by center Eric Wood.
Also on the Bills' first series, Boobie Dixon had a gain of nine. Harrison was manhandled by Wood on this run up the middle.
In the second quarter, Jackson had a gain of seven up the middle, and Harrison was taken to the ground by Wood.
In the fourth quarter, on Dixon's long touchdown run (30 yards), Pears locked up Harrison.
Wood and Pears are average players and shouldn't be manhandling Harrison, especially Pears.
Why do you think the Bills rolled the dice of the controversial Richie Incognito? It was because they are looking to replace Pears.
As for Wood, he looked like he was going to be a very good player, but then two seasons ago, he suffered a catastrophic broken leg, a similar injury to Leon Washington. When he came back from this injury, with a bunch of hardware in that leg, some Bills observers feel he's not the same player.
After taking step in the right direction in 2013, Harrison's backup, Kenrick Ellis, was too inconsistent in 2014. So often, when his play struggles it's because his pad level is too high.
Don't get me wrong, Harrison and Ellis are still young, and still have time to improve, but something was missing with both in 2014.
The new coaching staff is looking at the films if 2014 right now. I'm sure they will discern, once there film study is complete, that they need another body in the nose tackle mix.
Think about how great the Jets' line could be with Danny Shelton lined up inside of end Mo Wilkerson and Sheldon Richardson.
I watched a lot of Senior Bowl practices in Mobile in January, and Shelton was often unblockable.
He is a big guy (about 6-2, 330), who has the feet of a dancing bear. He's very good at handling double teams and does a nice job against the run. Shelton is one of those guys the late George Young would call a "planet player," meaning there aren't a lot of players like him on the planet. Young was generally referring to big linemen who move like much smaller men.
Richardson and Wilkerson are "planet players." Imagine finding another one to line up in-between them.
[/private]
February 20, 2015
Premium will return by 9:30 pm on Monday.
---