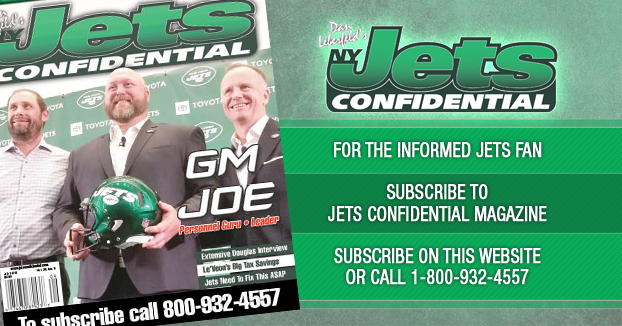 At the end of the first half of the Jets' win over Buffalo on Sunday, the Gang Green blocked a field goal, and during a return attempt by safety Rontez Miles, Bills kicker Stephen Hauschka was blindsided on a hit by defensive end Henry Anderson, hurting his lower back and hip.
Bills coach Sean McDermott wasn't very happy with the block.
"It's a shame that Stephen Hauschka took the hit he did," McDermott said. "There's no place in our game for plays like that."
What did Jets special team's coach Brant Boyer think of Anderson's block? He gave a lengthy assessment of the play on Wednesday, and here it is . . .
"First of all, (the blocked kick) shouldn't have been touched. I kind of got on Rontez for running back there and picking that up. We teach to get away from that ball.
"I think there's a fine line there. The kickers are coming over to make a play. I'd be mad too if I was him to be honest with you, If they hit my kicker like that I'd be pretty upset. But do I think it was a dirty play, no. I think it's borderline.
"I don't know how to explain it, but it's okay if the kicker goes and makes the tackle and nobody touches him but if someone blocks any kicker in this league . . . it used to frustrated me as a player, somebody goes and blocks a kicker it's an automatic flag, it's an automatic fine. They have helmet and pads on for a reason.
"Do you ever want to see that happen? Hell no. I don't want to see somebody's guy get hurt. I walked up to him at halftime and asked him if he was okay and I sent the coach a message. Because we don't coach dirty play and my guys are playing their butts off and that's all that I care about.
"If (the kicker) is going in to make a tackle, if (Anderson) is not giving full effort then he does hear it from me on Monday's and that's how it should be. You should play as hard as you can on every snap. If he's near the ball and he's going for a tackle then he's got to be blocked, if not, he saves a possible touchdown. I do think that he should've gotten maybe his head in front, he could've been a little easier on him, that for sure and I wouldn't want my kicker to be hit like that either, so it's kind of two sides to it."
*********************************************************************************************
To subscribe to the monthly Jets Confidential Magazine, click below, or call 1-800-932-4557 (M-F, 9-5). A subscription to Jets Confidential makes a great Christmas gift for a Jets fan. Jets Confidential Magazine – blunt, but fair.
---