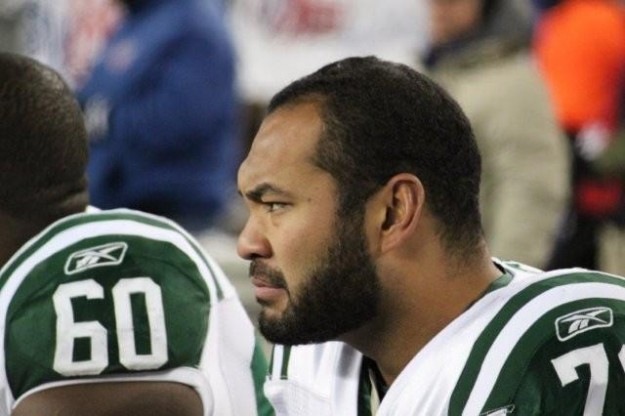 The Jets offensive line might be the MVP's of this game. To give up only one sack to the Pittsburgh Steelers talented Front Seven, and run for over 100 yards, is quite an accomplishment. Let's take a closer look.
They didn't get off to the best start. On the first drive, OLB Lamar Woodley went unblocked, and Sanchez was forced to run for his life to the right side, and eventually throw an incompletion.
Before we go any further, we need to mention perhaps the most important block of the game – reserve offensive lineman/tight end Robert Turner on LB Keyaron Fox, on Brad Smith's 97-yard kickoff return to start the game.
The Jets did some very impressive running on their second possession, a drive that ended up stalling – but the run blocking deserves some credit.
On the second play of this series, LaDainian Tomlinson gained 11 yards on the left side behind a great block by Slauson on veteran DE Brett Keisel. Then a few plays later, on an L.T. gain of 10 up the middle, Slauson did a great job of locking up Keisel again. This block, along with a great block by Nick Mangold on NT Casey Hampton, opened up a large hole up the middle.
Slauson did have a holding call on this drive that brought back a 20-yard pass to Santonio Holmes. Here is what happened on this play. Slauson and Mangold were double-teaming Keisel, because there was nobody else rushing in that area. But then LB Lawrence Timmons came on a late blitz, in the gap between Slauson and D'Brickashaw Ferguson (who was tied up with somebody else), and Slauson was late to come over to pick up Timmons, so resorted to holding him, as he blew by him, so he wouldn't get a clean hit on Sanchez.
Ben Hartsock missed a block on Woodley, who stopped Tomlinson for a loss of one early in the fourth quarter on a right side run.
On this same drive, Tomlinson had an outstanding blitz pickup, and this allowed Sanchez the extra second necessary, to hit Braylon Edwards for a gain of 16 over the middle.
In the middle of the fourth quarter, the Jets ran a direct snap to Tomlinson, and he gained 11 yards off left tackle behind great blocks by Ferguson and Dustin Keller.
This drive ended with a field goal, and Mangold helped the cause a great deal. Remember on the play before the field goal, Sanchez ran for six yards up the middle, making a 40-yard attempt into an easier 34-yarder. One reason there was so much room up the middle was Mangold's domination of the nose tackle.
Another excellent block by Mangold was on a Tomlinson gain of eight early in the fourth quarter up the middle. Mangold led the way with a great block on DE Ziggy Hood.
Brandon Moore had a solid game, including a terrific block on a Shonn Green gain of five in the middle of the fourth.
Every once in a while the Jets use an unbalanced offensive line, with both offensive tackles on one side. They did this on the first play of their second possession, and L.T. ran behind both D'Brickshaw Ferguson and Wayne Hunter, on the right side, for a gain of six.
Speaking of Hunter, he did a brilliant job on one of the NFL's best pass rushers, James Harrison. Hunter played with great technique. Another key for Hunter was his incredible strength. Hunter is one of the strongest players in the league, and is one of the few tackles that can match Harrison's amazing strength.
The Jets commitment to the run was a big reason they were able to sell the run so effectively on Sanchez's bootleg touchdown run on fourth down, in the third quarter.
---