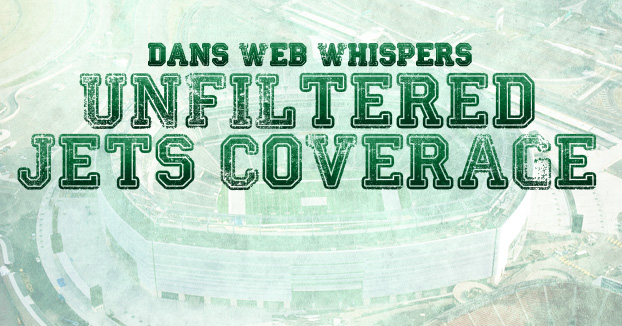 I actually don't have a big problem with the Sanchez extension, but I do have a problem with some tertiary issues related to this story . . .
First-off, the best part of the move for the Jets is it cleared cap space for them to get Sione Pouha (one of the best nose tackles in football) re-signed, and sign a few players in free agency, with three strong possibilities being outside linebacker Jarret Johnson, safety Laron Landry and wide receiver Braylon Edwards.
So that part of the deal was very good for the Jets, very smart and should be applauded.
But here is one of my minor issues connected to the signing.
To me, Mike Tannenbaum made a PR mistake here. He refused to acknowledge the move had ANYTHING to do with clearly cap space.
Once again, this is where the coddling creeps it's ugly head. Clearly in Tannenbaum's mind, if he said if the move was in anyway for cap relief, that would somehow take away from the meritocracy of new contract Sanchez was given.
I think if both Tannenbaum and Sanchez both had said something like, "The great thing about this deal, is it clears cap space so we can improve the team," it would have been a great way to spin it, and would have made them both look great.
But Tannenbaum categorically denied this had anything to do with clearly cap space – this was a missed opportunity to put a real positive spin on a story that had many scratching their heads.
Getting back to the contract – another reason I don't have big issues with it is because once the Jets realized they weren't going to get Peyton Manning, none of the other quarterbacks available are better than Sanchez.
Guys like David Gerrard, Kyle Orton and the like, really aren't a step up, so you might as well continue with the guy you have, especially since it's clear most people around the scene believe Brian Schottenheimer wasn't using him right, not playing to his strengths.
The feeling around the Jets is Tony Sparano's approach – pounding the ball, throwing safe passes, sprinkling in shots down field, with QB protection always at a premium, will fit Sanchez skill set better than what B-Schotty was doing.
But while Brian might have done the best job with his quarterback, I don't like how Sanchez doesn't take much ownership for what happened last year.
Throughout his press briefing on Friday night, he kept portraying last year as an aberration, and continually referred to his success over his first two years in the league.
While Schottenheimer deserves criticism, it's ridiculous to give Sanchez a pass for 2011, which he seems to be giving himself.
First off all, during these magical first two years, Rex, Mike and Mark keep reminding us of, Sanchez was okay, but the Jets did get a lot of breaks (like the Colts handing them the playoff-clinching game by not trying to win in 2009). Sanchez did some nice things at times during those first two seasons, but also a lot of bad things. His completion percentage was below par, and he had a myriad of clunker games.
So it's time to stop putting him in Canton for his work in 2009 and 2010.
And also, B-Schotty, or no B-Schotty, Sanchez wasn't very good last year, and he needs to take more ownership of that.
(Will have Part II of our review of the Sanchez contract on Monday, by 8 pm.)
---