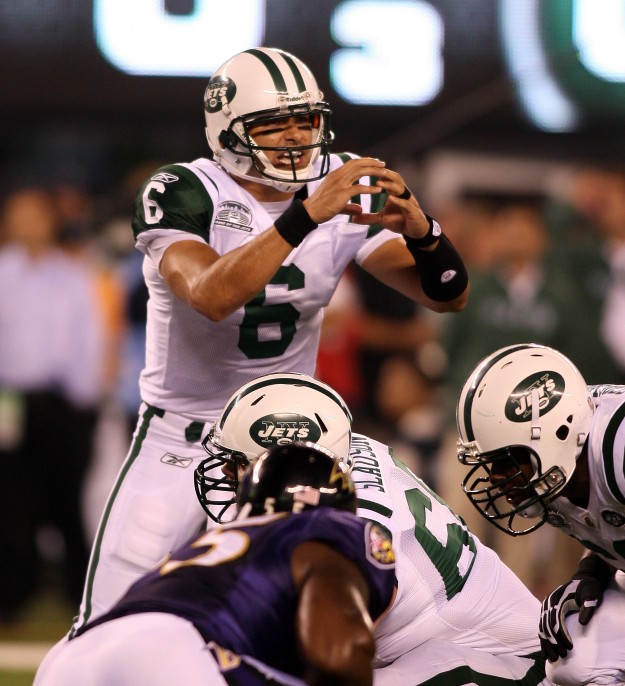 Mark Sanchez did throw 13 incompletions, and is lucky he didn't have three picks, but overall it was his second strong performance in a row with three touchdown passes and a 120.5 quarterback rating.
[private]
On third-and-four, on the Jets first possession, Sanchez and Dustin Keller connected for a gain of 16. Keller ran a great route on this play, and his crisp cut left cornerback Sean Smith in the dust, as he cut from the middle to the outside. A few plays later, Sanchez put a capstone on the 10-play, 72-yard drive with a 24-yard TD on the right side of the end zone to Keller. This is an example of Sanchez showing faith in Keller to make the catch even when covered. Safety Yeremiah Bell was in pretty tight coverage (Sanchez tried a pump fake that he didn't bite on), but Sanchez threw the ball up, and the tight end got it. In fact, Bell probably interfered with Keller on this play, and it wasn't called.
The Jets second possession was essentially a three-and-out, and the only reason he lasted five plays was because of two offensive line penalties.
The Jets third possession worked out a lot better, and it was the Dustin Keller show again. On first down, he beat linebacker Tim Dobbins over the middle for a gain of eight. With his 4.5 speed, most linebackers are awful matchups with Keller, and this was an example of that. We will have another example of a really bad matchup for Keller shortly. Two plays later, the Dolphins didn't have a bad matchup on Keller, they had no matchup. He was wide open on the deep left side for a gain of 31. Remember, the Dolphins put in a new defense this off-season under Mike Nolan, and clearly they are still getting the kinks out. There was a major blown assignment on this play. Why on earth would you EVER not have anybody near Keller, the way he's playing?
The third possession wrapped up with Sanchez hitting Keller for a 12-yard touchdown in the middle of the end zone. When Sanchez and Keller saw journeyman linebacker Bobby Carpenter matched up on the tight end, their eyes lit up. This was ridiculous, and they took advantage of it. Carpenter's footwork was awful on this play, and Keller beat him handily.
After a false start, on second-and-20, Sanchez was wild on a throw to Jerricho Cotchery, that was high and wide, and also got the receiver hurt. J-Co was crushed by safety Chris Clemons, who was called for an illegal hit on the play. This was a very poor throw. Theoretically, it probably should have been 3rd-and-20, and the Jets might never have scored on this possession.
The Jets next possession, middle second, they had a three-and-out. On third-and-eight, Sanchez had his pass tipped away at the line by defensive end Kendall Langford.
On the Jets last possession of the half, Sanchez did drive the team into long field goal range, but a penalty on the field goal made the kick unmanageable. The top pass play of this drive as a 22-yard out on the right side to David Clowney who did a heck of job getting out of bounds to stop the clock.
The Jets first possession of the third quarter was one play. Sanchez hit Braylon Edwards for a 67-yard touchdown down the left sideline. It was a medium range pass. Edwards ran a crisp route on Jason Allen, getting open on the sideline, and then as he turned up field, Allen slipped, and the wide-out was off to the races. I'm not taking anything away from this big-time play, but this re-sodded field was awful, and cornerbacks were slipping all over the place.
On the Jets next possession, the only play of note was a pass to J-Co on the right side for a gain of 12 on first down. After that play, it was three-and-out. Sanchez almost had another interception on this drive. Linebacker Cameron Wake tipped the pass at the line, the ball was up from grabs, and Brandon Moore did a great job of batting it down.
The next possession (after an Eric Smith blocked punt), that started late in the third quarter, and carried into the fourth, was ugly, and essentially went backwards (eight plays, five yards), but it wasn't the fault of Sanchez – there were three penalties. In fact, a Sanchez scramble for a touchdown was called back by a Slauson holding call, which seemed like a ticky-tack call. The best play of this drive as a direct snap to Brad Smith that he took for 16 yards. The Jet settled for a field goal.
The Jets next drive was a three-and-out, and Sanchez was lucky not to be picked off by Jason Allen (instant replay reversed this pick). This was a terrible throw, behind and high to Cotchery, and it was tipped right to Allen, but the ball hit the ground.
From the middle of the fourth quarter to the two minute warning, Sanchez drove the Jets on a 12-play, 80-yard drive, which was capped by an LT touchdown run. Sanchez had two passes to LT on this drive he would want back. On the first one, he was low, and incomplete on a pass to the short right side. Then on the next play, he threw a shovel pass, right in the middle of the line, and Langford blocked it, and nearly picked it off.
Braylon Edwards did some good work on this drive. He and Sanchez hooked up for a 20-yard timing route on the left side, continuing to pick on Allen. Sanchez and Edwards are truly on the same page now. This pass was thrown before the receiver turned around. A few plays later, Sanchez threw a fade to Edwards in the end zone, and Allen never turned around, and was called for interference.
Overall a good performance by Sanchez, but he has a lot of work to do. There were too many near picks, and some accuracy issues.
[/private]
---