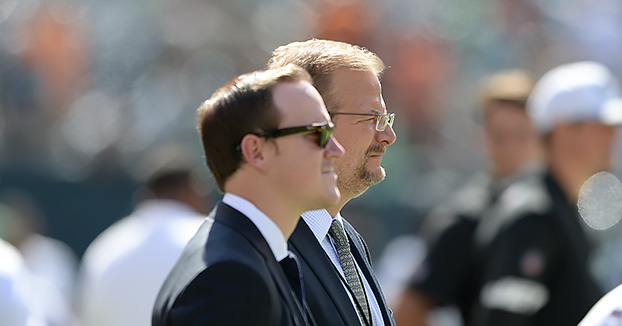 None of them really mean much, but this one might mean a little . . .
[private]
Mock drafts are fun to read, but when you really think about it, they mean very little.
It's basically pundits guessing at what a team might do with their first round pick.
But I've said it before, and I will say it again, when NFL.com's Charlie Casserly does a mock draft, it might actually mean a little bit in terms of the Jets' thinking.
Casserly is the reason Jets GM Mike Maccagnan got a jobs with the Washington Redskins, Houston Texans and then the New York Jets.
Casserly, the former GM in Washington and Houston, hired Maccagnan in both spots.
And then Casserly worked as an NFL consultant, who the Jets used along with former Green Bay Packers GM Ron Wolf, in their 2015 head coach and GM search. That search resulted in the Jets picking Maccagnan as GM.
That NFL program, that hooked up NFL teams with former team executives to help them make pragmatic choices for GM and coaching slots, has basically gone by the wayside.
Teams started to realize that these executives were often pushing people who used to work for them for jobs. There was too much nepotism going on, so teams are eschewing this program these days.
Casserly advised the Jets to hire Maccagnan, a long-time scout for Charlie. Was that the best move for the Jets? We are still trying to figure that out. The jury is still out on Maccagnan. I think we will find out a lot about him with how he handles this HUGE off-season for the Jets, with $80 million in cap space and three picks in the first two rounds.
But when Casserly has the Jets picking Mayfield, we can't just dismiss this as "just another meaningless mock draft."
First of all – full disclosure here – I think the Jets should pick Mayfield if he is there at six if their security chief checks off on him from a character standpoint.
Mayfield was so impressive the last two years at Oklahoma against a very tough schedule. His accuracy was awesome connecting on 70 percent of his passes his last two years for the Sooners, and then was very accurate in practices at the Senior Bowl.
He reminded me so much of Brett Favre at the Senior Bowl from an energy standpoint, and also with his decisiveness in the pocket – firing the ball to a target with no hesitation or fear.
And considering the last two quarterbacks the Jets picked in the draft, Bryce Petty and Christian Hackenberg, who are good guys and hard workers, both have accuracy issues, Mayfield's accuracy should make him even more appealing to the Jets.
Maccagnan needs to realize at this point that to pick guys with accuracy issues, and try to make them accurate, can be an exercise in futility.
Like I've said on many occasions, my plan for the Jets would be to pick a QB at six, and re-sign Josh McCown for one-year, and have McCown quarterback the Jets in 2018, and help prepare the kid to take over in 2018.
February 13, 2018
Premium will return by 9:30 pm on Wednesday.
[/private]
---