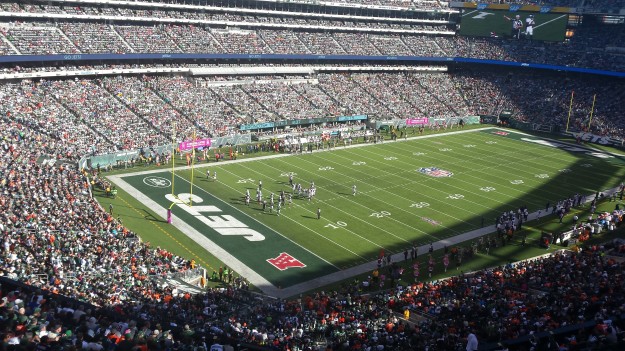 East Rutherford – For the Jets players, it's like the "Charge of the Light Brigade." The players just need to keep forging ahead with the GM's plan. They have no choice . . .
[/private]
John Idzik is spending this season developing his hand-picked quarterback.
So for the players, "Theirs not to reason why. Theirs but to do and die."
I like Geno Smith. He's a nice young man. On a human level, I hope this works out of him. I don't like to root against people.
But John Idzik is mistaken if he thinks it's a guarantee that time will fix all the player's shortcomings.
I could literally list 100 quarterbacks who were given time to work the kinks out, and it never happened.
Marty Mornhinweg had one in Detroit – Joey Harrington.
It's a flawed concept.
So this "give him time" theory is filled with flaws, and often doesn't work that way, and for Woody Johnson to buy into Idzik's plan, and just write-off two seasons, letting a kid learn on the job, isn't fair to Jets fans.
I'm not putting Mike Vick in Canton, but most owners would be pounding the table for Vick to try to get a win, something this team needs in the worst way.
But Johnson is totally on board with this "give him time" approach because he believes in Idzik and his plan . .
This play says so much about how opposing defenses feel about the Jets' passing offense.
On the Jets' first series, they had a second-and-11, and T.J. Ward comes up from his strong safety position, and planted himself in the box, close to the line, and helps make the tackle, on a Chris Ivory run that went for no gain.
Why would a safety play that close to the line on what is generally a passing scenario?
Because opposing defenses have little fear of the Jets' passing attack.
To play a safety in that spot on second-and-11 speaks volumes.
Teams are loading up the box every week, and this is a big reason why the Jets running game has stalled . . .
The Jets handling of Antonio Allen makes little sense.
He does he go from starting cornerback (helping the team out in a pinch) to a backup safety who hardly played today.
And then when Calvin Pryor got replaced after poor coverage on a third quarter touchdown toss to TE Julius Thomas, it was Jaiquan Jarrett who took his place, not Allen.
Pryor did a poor job of reading his keys on this play, and hesitated in his coverage of Thomas, and that delay opened up the space for Peyton Manning to make the throw.
The arrow was pointing up on Allen as a safety. I understand the Jets needed him to help out at corner, but why bury him at safety now?
Pryor has a tremendous amount of potential, and should be a very good player in time, but he's making a lot of coverage mistakes due to his inexperience. Why not use Allen some at that spot?
That makes little sense . . .
I saw Brian Winters after the game. He was walking fine, and had one of those medical sleeves on his left leg.
I know it can be misleading to judge a player by how he walks after a game, but he didn't need crutches or any assistance.
I could be wrong, but it didn't look like a season-ending knee injury.
By the way, Oday Aboushi did a very nice job taking over for Winters. Aboushi has really settled in nicely to his new home at guard . . .
Breno Giacomini had ice bags on both his lower legs in the locker room.
Big week for the Boston-product going home to play in New England . . .
[/private]
October 12, 2104
Premium will return by 9:30 pm on Monday.
---