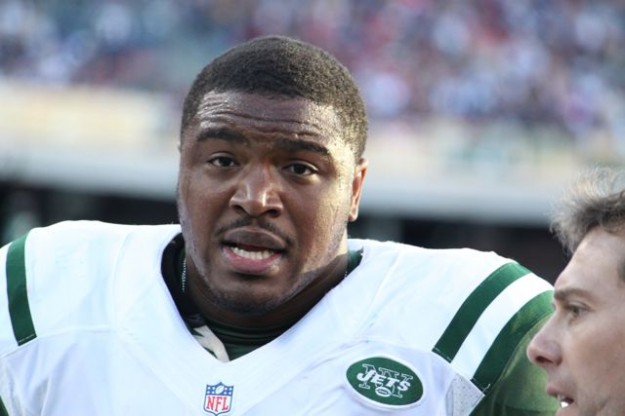 Burien, Washington – The survival of the Jets slim playoff hopes rest on their game at Seattle on Sunday. Dan checks in from the Seattle-area with some Saturday night Jets notes . . .

This is a premium article. You must be a subscriber to continue.
Don't miss anymore Website Whispers, become a Dan's Insider today!

Already a subscriber? Click here to login.
Not registered? Click here to subscribe or call 1-800-932-4557.
The Seahawks have a strong safety named Kam Chancellor.
He is a massive safety at 6-3, 232 pounds, a big-time hitter and good against the run.
But while his size helps him in those areas, he can be a liability in coverage, so look for the Jets to go after him, trying to get him in match-ups with Dustin Keller or Jeff Cumberland (pictured above).
The Seahawks other safety is tremendous in coverage – Earl Thomas, a former first round pick out of Texas. He has the cover skills of a corner . . .
On Wednesday, The Jets plucked guard Hayworth Hicks from the Indianapolis Colts practice squad.
But for some reason, he didn't travel with the team to Seattle.
I asked a team official why he didn't travel.
"Because he is not going to play – he joined the team on Wednesday," the official said.
Clearly we all know he's not going to play. There are four guards ahead of him, but I don't see what that has to do with him traveling.
Generally, the only players on the roster that don't travel are the injured players who are clearly not going to play, in this case, that group encompasses Joe McKnight (high ankle sprain) and Kenrick Ellis (MCL knee sprain).
This is the first time in my 16 years of covering the Jets that I heard of a healthy player on the roster not traveling because he's not going to play.
Here is a kid who doesn't know the system or much about how the Jets do things, so why wouldn't you want him with you on the road, attending meetings at the hotel, participating in pregame warm-ups drills, getting to know his new teammates better?
Maybe not taking him is a cost-cutting move to save travel expenses, I don't know.
Clearly the Jets have no plans for Hicks to play this year, unless there are a rash of injuries involving the guards in front of him.
This signing of Hicks off the Colts practice squad was made for obvious reasons.
Both Brandon Moore and Matt Slauson are free agents after this year, and are both likely goners. It's unclear if Vlad Ducasse and Caleb Schauderaff are both the answers for those two spots, so Hicks is another guy with potential they can throw into the competitions . . .
I just don't understand a 3-5 team giving the opponent extra motivation.
"We're going to get this guy (Seahawks QB Russell Wilson) rattled," Mo Wilkerson told WFAN. "He's a rookie so he's not (as) experienced as somebody like Tom Brady or something. So we've got to just get after him."
First of all, getting Wilson rattled is very hard to do. He's extremely poised, intelligent and wise beyond his years. This is a player who was the captain of two different college football programs – N.C. State and Wisconsin – and led both programs to bowl appearances.
I'm not saying the Jets can't force the rookie into mistakes with complex looks, but to say you are going to rattle him, when you team has 12 sacks on the year, is a comment the Jets should probably try to avoid. Why add fuel to the fire entering the most hostile road environment in the NFL by talking smack.
And also, why give Seattle's terrific pass rusher even more motivation to "rattle" Mark Sanchez, which we have seen can be done.
This culture Rex has created of people shooting their mouths off, to me, is counterproductive.
Act like the Patriots or Packers, if you feel you can beat a team, or rattle a quarterback, or make the playoffs after a 3-5 start, perhaps keep it yourself.
November 10, 2012
Premium will return by 11:59 on Sunday night.
---