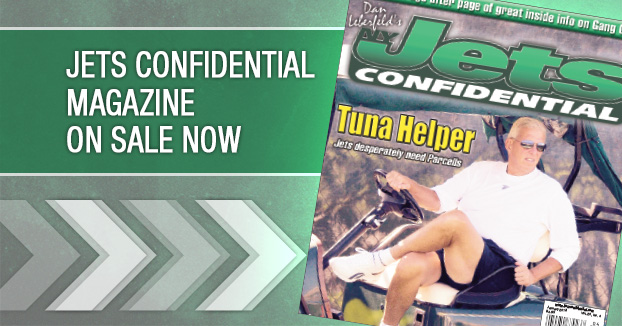 Good luck to Mark Sanchez on Sunday in Jacksonville. I hope he plays very well and silences the doubters, including me.
[private]
I think it's very bad for a writer to have an agenda against anybody they cover.
It's wrong.
I have called for Greg McElroy to take over as the starter, but I'm not going to sit here and wish failure on Mark in Jacksonville, like this is some kind of holy war for me.
Hey, we are all human, and have egos, and we want to be right more than we're wrong.
But if Sanchez lights it up the next few games, regains his mojo, I will be more than happy to give him kudos, and give him a tone of credit for getting off the mat.
I just want to make that clear – I have no hidden agenda here.
But I have two eyes, and what I've seen this year is a quarterback who should be replaced.
Why didn't Rex pull the trigger this week on a quarterback change?
I think he's become so close with Mark he wanted to give him one more chance.
When I saw Rex with his arm around Mark at his locker, after the Arizona game, I sensed he the quarterback was going to get another shot.
Why would a coach, if he was moving on from a player, even for the short term, spend that kind of time at his locker speaking to him?
To me, reading the tea leaves, this didn't represent a coaching moving on to another quarterback. It looked like more of a pep talk.
There is no question Rex thinks, the next two games, against lousy teams, Jacksonville and Tennessee, represent a chance for Mark to rebound.
AND THEY ARE ON THE ROAD.
This is a huge factor. If this game was in MetLife Stadium, Sanchez, who is a sensitive sort, would be facing a lynch mob, that might have been too much for him to deal with.
In one of the loudest chants of the year, the stadium rang with the chants of "McElroy, McElroy, McElroy," in the early third quarter last week.
If Sanchez was at home this week, I think the fans would have turned up the volume on these chants.
And I don't want to hear people ripping the fans for these chants like they are committing some heinous crime. They did nothing wrong.
Sanchez threw three picks in the first half, and almost had a four. He's had too many clunker games the last two years. The fans have every right to yell for a change. People pay big bucks for the tickets, which to me, enhances their First Amendment rights.
So there was no way Rex could have started Sanchez if this was a home game.
His hope is that Sanchez breaks out of his slump in the next two winnable road games, and comes home against San Diego, with a much higher popularity rating with Jets fans.
We will see if Rex's wish comes true.
I hope it does.
I don't root for people to fail.
[/private]
December 6, 2012
Premium will return by 9:30 pm on Friday
---