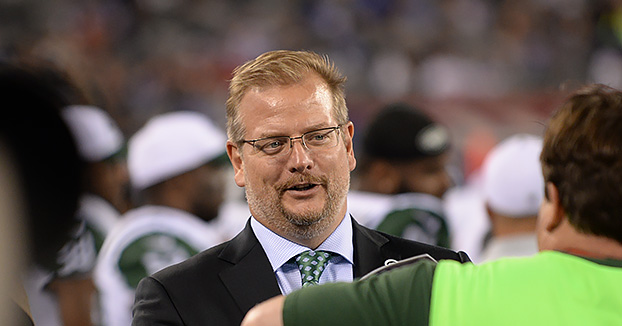 New Jersey – So finally he will speak. He had a tremendous amount of work to do after the season, so the press briefing was pushed back . . .

This is a premium article. You must be a subscriber to continue.
Don't miss anymore Website Whispers, become a Dan's Insider today!

Already a subscriber? Click here to login.
Not registered? Click here to subscribe or call 1-800-932-4557.
Big day Thursday in Florham Park. Jets GM Mike Maccagnan will hold his season-ending press conference at 1:00 p.m..
It took a while for the Jets to announce when this was going to be.
Often, this is a day or two or three after the season ends.
But, I have no issue with Maccagnan pushing this back.
He had much more pressing issues to deal with than talking to the press.
As far as I'm concerned, he talks to us, when he talks to us. He doesn't owe us a damn thing.
His main job is to build a championship team in Florham Park. You don't win in the press.
11 days ago, I saw Maccagnan outside the Jets' locker room in frigid Buffalo, and he looked like a ghost. Not from the lake effect winds, but from the Jets' devastating loss at Ralph Wilson Stadium, with a playoff berth on the line.
Brutal loss for the Jets fans, players and their GM.
This off-season is huge for "Mr. Coffee," as some reporters call him due to his addiction to Starbucks.
While that loss was devastating to Jets fans, perhaps the silver-lining is that it will force the Jets' brass to truly deal with reality this off-season.
There will be no "fat-cat syndrome" as Bill Parcells used to call it.
Even though the Jets won five of their last six games, that loss in Buffalo was a slap upside the head.
They clearly have a lot of work to do to take the next step. A lot.
I'm usually not into these kind of press conferences, because the GM usually doesn't say much.
But I'm going to be there front-and-center to observe the still relatively new GM – see what he says, see his body language, get a feel for where the Jets' football leader is at right now.
He has a lot of tough decisions to make this off-season, a number of areas to fortify.
Let's see what he has to say on Thursday.
Honestly, he should be mad as hell about what happened in Buffalo, and focused like a laser on fixing what led to that debacle.
On most fronts Maccagnan did a nice job in his first year at the helm. Three great moves come to mind – the Brandon Marshall and Ryan Fitzpatrick trades turned out to be brilliant moves. The third great move was picking Leonard Williams with the sixth pick of the first round. Now you can say the talented defensive end fell in their laps, but nonetheless, it was still a tremendous pick for the Jets. Don't get caught up in sack totals. He's special and after an off-season getting stronger in the Jets' strength program, he should be even better.
But on the negative side, I'd love to know, and I'm sure many of you would like to know, why more resources weren't put into special teams.
Should be interesting to hear what the GM has to say.
A lot of tough questions will be posed.
December 13, 2015
Premium will return by 9:30 pm on Thursday.
---