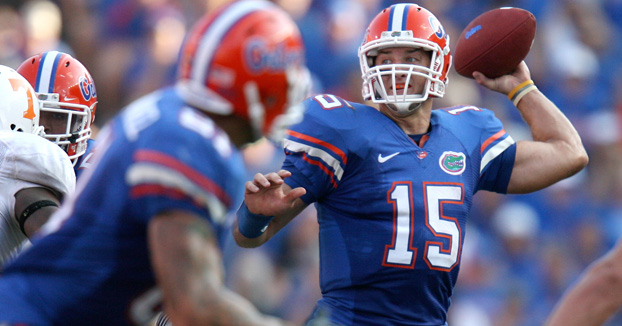 If the Jets don't control the message, and handle the PR of the Tebow acquisition properly, it could turn into a messy situation.
[private]
Some reporters are already attempting to divide the Jets, divide their locker room, with Tim Tebow's arrival.
There is one New York-area football writer who lives for quarterback controversies. Just look at his history.
His name is Gary Myers, and going all the way back to his time in Dallas, he feasts on quarterback controversies.
And he didn't wait long to start one with Sanchez and Tebow.
He wrote today that a source told him, Tebow wanted to be traded to the Jets, because he feels he has a better chance of starting with them, than Jacksonville.
Jacksonville drafted a quarterback in Round One last year (Blaine Gabbert) and added a young veteran in free agency in Chad Henne this year, and paid him well.
According to Myers's source, Tebow feels, with Sanchez as his only obstacle in New York (and obviously coming off a bad year), he has a clearer path to starting with the Jets.
Now, we think Greg McElroy would both give them a run for the money, but the Jets aren't big on open competitions, so we know G-Mac isn't going to get a shot here, right now. Though, with Drew Stanton out of the picture, McElroy should be a lock to grab the #3 job.
Getting back to Myers.
Did you know in Dallas, in the early 1980's, Myers actually gave out a ballot to players in the Cowboys' locker room, with the question, "Who do you want to start, Gary Hogeboom or Danny White?"
That did a lot of damage to the Cowboys, and contributed to splitting the team.
Let's see if the Jets' front office has the fortitude to stand-up to this guy, or others of his ilk, and make it clear – "Tim Tebow has been brought in to serve a Brad Smith Wildcat role – that is it. Mark Sanchez is our quarterback."
It's pretty important for the Jets to stop certain media people from trying to destroy their clubhouse over this – not kiss their butts and give them special treatment. No, instead, for once, put them in their place.
It's one thing to fairly criticize (like we try to do here), it's another to try to tear apart, and actually impact a team's ability to be successful.
Let's see if the Jets will finally stop placating people who are trying to destroy them.
We don't think they will, based on past behavior. No matter how much guys like Myers viciously attack the Jets, and act in a derisive fashion, they still get the royal treatment in Florham Park.
But if Rex, Mike and their PR department don't fight the media pushing Tebowmania in the locker room and the public, this could turn into an untenable situation.
And you know what doesn't help? On Monday, Tebow is having a major press conference in Florham Park.
Let me ask you all a question – How often, when teams sign a #2 quarterback, does he hold a major press conference?
That is almost unheard of.
The Jets should avoid doing this. A phone conference call with Tebow would be just fine.
But when you have a major press conference like this, you are fueling the controversy fires.
And confirming the suspicion that this move might have been made to sell tickets.
[/private]
(Premium will return by 9 pm on SUNDAY night. I will be on Sirius/XM NFL Radio, 11-2 Eastern on Saturday, and I'm sure it's going to be all-Tebow, all the time, if you care to listen – lol.)
---