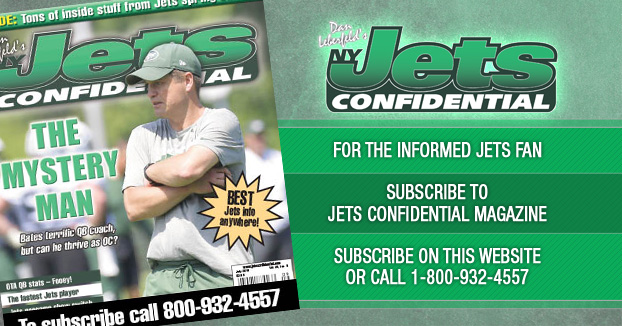 New York Post columnist Steve Serby interviewed former Jet Kris Jenkins, and here is what the former nose tackle had to say about Mark Sanchez –
"They might as well put one of the PR guys in a chair and put a Sanchez mask on him and let him talk," Jenkins said. "He's not showing any individuality. The only time you see any spark is when he's doing commercials or something. . . . It's not cool when they're telling you every five seconds, 'We need you to do this, we need you to say this.' They have to trust in the person they invested in.
"When they sign these contracts, they're paid to do their job as men," Jenkins said. "If they're treated as children, how do you expect him to play like a driven man? They need to stop handling Sanchez. They need to let Sanchez make it happen and then see where it goes from there. Give him more freedom to make play calls. He sees what's going on. Take the training wheels off him. Let the boy grow up and be a man."
We couldn't agree less.
---