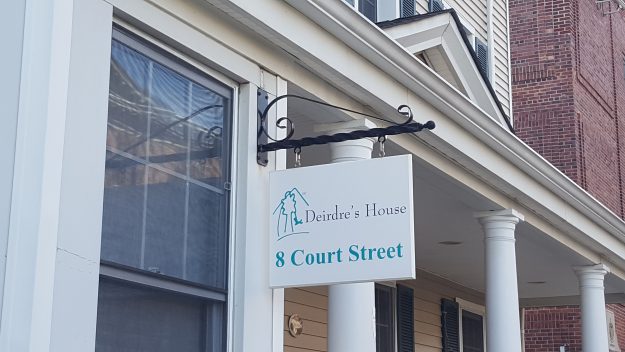 NEW YORK JETS AND ED BLOCK COURAGE AWARD FOUNDATION TO DEDICATE DEIDRE'S HOUSE AS OFFICIAL COURAGE HOUSE
OCTOBER 24, 2016 – Morristown, NJ- The Ed Block Courage Award Foundation and the New York Jets presented Deirdre's House as an official Ed Block Courage House. The ceremony was held at the Courage House facility at 8 Court Street, Morristown, NJ, on Tuesday, October 25th. Members of all three organizations were present, including New York Jets defensive back and 2014 Ed Block Courage Award Winner, Rontez Miles, who presented a $10,000 check to Deirdre's House, whom the Jets have partnered with since 2008.
Deirdre's House is a facility that provides support/care to abused, neglected and/or at-risk youth and their families in that community. The team and the Foundation will work together to create a support network in order to help promote the facilities' fundraising and awareness.
The Ed Block Courage Award Foundation is an NFL-supported charity dedicated to recognizing courage throughout the league, while improving the lives of abused, neglected and at-risk children in NFL cities throughout the country. The Foundation annually bestows a prestigious Ed Block Courage Award to a player from each NFL team who, in the eyes of his teammates, exemplifies a commitment to sportsmanship and courage. A list of former Jets winners since 2000 includes:
2015 Ryan Fitzpatrick
2014 Rontez Miles
2013 Isaiah Trufant
2012 Jeff Cumberland
2011 Brandon Moore
2010 Shaun Ellis
2009 David Harris
2008 Jerricho Cotchery
2007 Lavernanues Coles
2006 Chris Baker
2005 Wayne Chrebet
2004 Chad Pennington
2003 Dave Szott
2002 Vinny Testaverde
2001 Curtis Martin
2000 Jason Fabiani
Block was the Head Athletic Trainer of the Baltimore Colts from 1954-1977 and cared for the team's players during the 50s, 60s and 70s. He was inducted in the National Athletic Trainers' Association (NATA) Hall of Fame in 1974. Ed is remembered as one of the most educated athletic trainers of his day. He stood for courage and championed the cause of those who displayed that characteristic. His work and philosophy continues today through the Foundation that bears his name.
The Ed Block Courage Award Foundation is committed to establishing a Courage House in every NFL city. On March 11th, 2017 the Foundation will celebrate 39 years of recognizing courage in the NFL, while improving the lives of abused, neglected and at-risk children and their families in NFL cities throughout the country.
About Deirdre's House
Deirdre's House is the Center in Morris County for child victims of abuse and/or neglect and for children that have witnessed domestic violence. Established in 1994, Deirdre's House is the only site in Morris County where a child victim can be interviewed and digitally recorded by law enforcement, medically examined and treated by a pediatric abuse specialist, prepared for trial, and clinically counseled in English or Spanish—all under one roof.
---