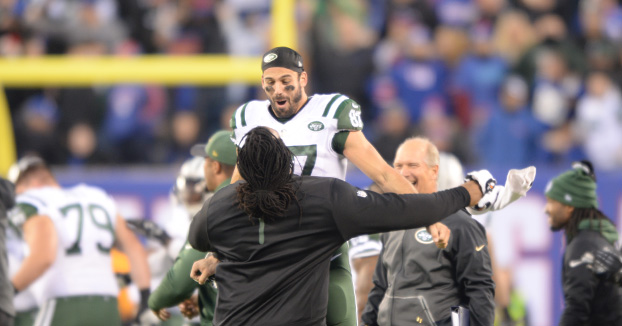 The Jets' two chief competitors for the AFC Wildcard spots, are the Kansas City Chiefs and Pittsburgh Steelers.
All three teams are 8-5.
So the next couple of weeks, Jets fans, should probably also be Baltimore Ravens fans.
The Ravens host the Chiefs this week, and the Steelers the following week.
Clearly the Ravens aren't a great team, but with an excellent coach like John Harbaugh, they will likely keep fighting.
And if they get Matt Schaub back at quarterback this week from a chest injury, that should help them a little bit. While he's an average quarterback, he's got a lot of experience, and has won games in this league. Jimmy Clausen started for the Ravens yesterday in their loss to Seattle.
Hey, it might be a long-shot for the Jets and their fans to expect the Ravens to beat the Chiefs and/or the Steelers, but you never know. And the fact that both games are in Baltimore, at M&T Bank Stadium, could help them pull at least one upset.
So Jets fans might want to become Ravens fans, as well, the next two weeks.
***The new issue of Jets Confidential Magazine is being mailed today and will be on news stands in a couple of days. One of our best issues ever, loaded with great info from behind the scenes. To subscribe to this monthly must-read for Jets fans, call 1-800-932-4557 (M-F, 9-5) or you can do so on this website. A JC subscription makes a GREAT holiday gift for a friend or relative.
---