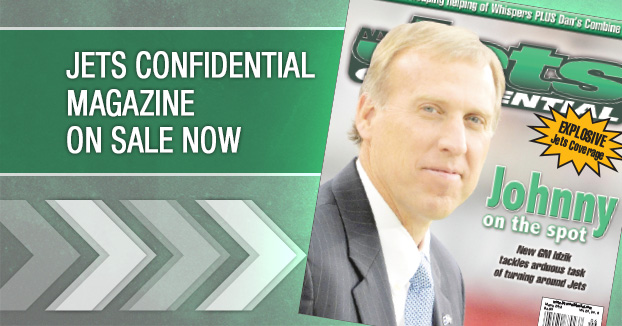 New Jersey – Marty Mornhinweg was a good hire by the Jets. He's a very smart guy with a fertile offensive mind.
[private]
But what he said today is a head-scratcher, and if makes you wonder what is going on inside the offensive meetings at One Jets Drive.
For him to say the following, makes little sense –
"Mark (Sanchez) will probably have just a little bit of a leg up, it would appear," Morhinweg said.
Why would it "appear" that way? Why would he have a "leg up?"
Did he watch the Tennessee tape?
There is no reason for anybody in that building to think that way based on the last two seasons.
You know what's a huge problem? There are still too many people in the building stuck in 2009 and 2010 when the Jets made the playoffs and made runs in the second season.
And this thinking has trickled down to Mornhinweg.
"He played some awfully good games, though it's been just a touch scatter," Mornhinweg said. "He's proven he can play at a winning level, at a high level — the year before last there were three, maybe more than that, where he brought the team from behind on the last drive of the ballgame. He's proven he can do that. He's proven that he can make all of the throws. So now his challenge, and our challenge, is playing at that level on a much more consistent basis."
It's almost Mornhinweg has been brought in to resurrect Mark Sanchez, like Tony Sparano was last year.
Brian Schottenheimer got fired in large part due to how Sanchez played in 2011, and then Sparano suffered the same fate in 2012.
Does Mornhinweg want to go down that road?
Does Mornhinweg really think his challenge is to make Mark play more consistently? He's never been consistent – even during the two playoff years, which are clouding the Jets' judgment.
In 2009, he threw 12 TD's and 20 picks and completed 53.8 percent of his passes.
In 2010, he threw 17 touchdowns to 13 picks and completed 54.8 percent of his passes.
I know numbers aren't everything, but those numbers are very underwhelming.
Those completion percentage numbers are bad, and essentially mean every other pass is hitting the ground, which is a very hard way to sustain drives.
Sanchez has a number of inherent problems – he tends to birddog his primary target, his pocket presence is shaky and he too often makes receivers work too hard due to poor accuracy.
If Mornhinweg thinks he was brought it to turn Sanchez around – that is ill-conceived.
His job should be to run the Jets offense, and it should be run by whoever wins the quarterback battle in the spring and summer. And that competition should include Sanchez, David Garrard and Greg McElroy, with nobody having a "leg-up."
Can Marty try to improve Sanchez? Of course, but that should not be his mission statement. It should be just a small part of his job – not an obsession.
For Marty to say Mark has a "leg-up" is misguided, and created some bad PR.
And it's almost like he thinks that is what the higher-ups want to hear – that he can make this work with Sanchez.
This thinking needs to stop.
It's holding the organization back.
Just play the best players – forget about where they were drafted and how much they make.
It's always the best formula.
Somebody needs to tell Marty – it's okay to say it's an "open quarterback competition."
They just said it in Cleveland.
There is nothing with wrong saying it Florham Park.
[/private]
March 11, 2013
Premium will return by 9:30 pm on Tuesday.
---