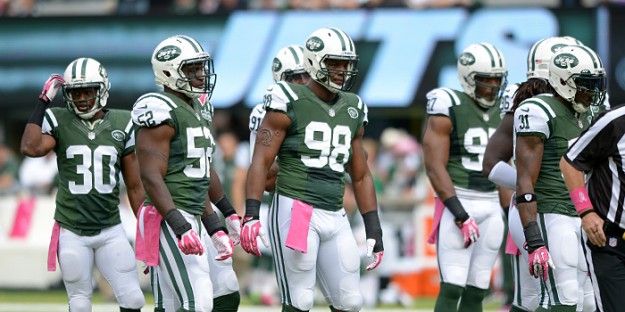 Joe Klecko went off on Quinton Coples during an appearance on WFAN. Let's take a closer look at what he said and the veracity of it . . .
"A little bit of the time, he looks like Tarzan, plays like Jane," Klecko said of Coples. "Sometimes he gets out there and does things that are unbelievable. Well, you need to go out there and stick your nose in there every time and make sure everybody knows you're there. I think he has a lot to learn.
"I don't know him at all, but understanding attitude and body language, he sometimes comes out there, I think, and thinks, 'Don't you know who I am? I'm here. He has to start proving that he is something to be reckoned with.
"You have to have defensive players on the team that do that kind of play – go for the jugular vein, all out, all the time. And then everyone starts to listen you. If you have just a group of lukewarm guys, you're going to have lukewarm players that will need to have to be picked up by their leaders."
First of all, can you believe that we are talking about issues with the Jets' front seven?
That is the least of their problems.
A couple of things to consider about Coples.
First of all, he was playing linebacker for the first time in his life.
Remember, after the Jets picked Sheldon Richardson, Coples was moved to outside linebacker.
So last year was a transition year for him. Of course, there were going to bumps in the road.
Secondly, he suffered a hairline ankle fracture on August 17, against Jacksonville, in the preseason.
He returned faster than expected, for the Jets' Week Three game against Buffalo.
But he wasn't 100 percent when he returned.
I saw him in the locker room and practice, and he was hobbling on that leg – there is no doubt about it.
And that leg was heavily wrapped for practice and games, and he was constantly doing rehab.
I'm not looking to make excuses for the guy, but I'm just throwing out some facts – he was playing a new position for the big chunk of the season on a bad wheel.
Once he got more comfortable at outside linebacker, and his ankle healed up, later in the season, you saw a spike in his play.
For instance, he was terrific in the Jets-Panthers.
In the second quarter, Coples beat left tackle Jordan Gross for a sack.
In the third quarter, Coples had an outstanding play in run support. He was rushing from the right end position. Right guard Nate Chandler was pulling left, and Coples blew by him, and yanked down Mike Tolbert for a loss of one. The guy is 5-9, 245 – low center of gravity back.
In the third quarter,Coples got by left gaurd Travelle Wharton and hit Cam Newton as he threw incomplete to end the possession.
Look, I understand he needs to be more consistent, and must take a big step this year.
But I think Klecko's "Tarzan-Jane" quote was a little over the line, considering the injury and new position last year.
"The other thing I wonder about was did Klecko weigh Coples' play in the first half of the season, when he was still rehabbing a broken ankle on the fly, and the second half, when he played a lot better, in my opinion," said a source close to the Jets.
Klecko also went after Mo Wilkerson, which I found very surprising. Wilkerson was outstanding last year.
Once again, can you believe we are talking negatively about the Jets Front Seven right now? Jeez, this is the least of their problems,
And that area of the Jets, along with the running game and Nick Folk, where some of the true bright spots of the 2013 Jets.
Body language?
I don't know about all of that.
Not my area of expertise.
 [/private]
May 5, 2014
Premium will return by 9:30 pm on Tuesday
---