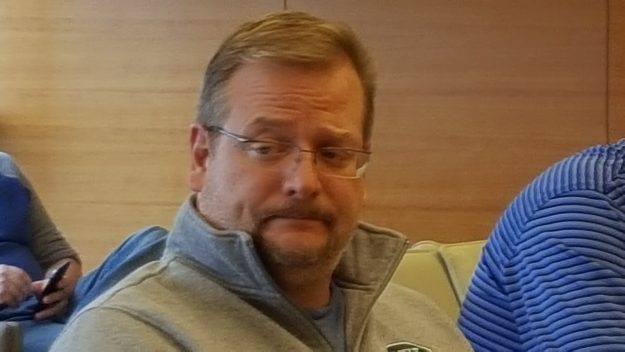 Florham Park – Paxton Lynch was there for the taking, and the Jets passed. This is no surprise. Darron Lee was the pick. Mike Maccagnan is a man with a plan.
Friday's update will be posted by 11:59 pm!
[private]
As we mentioned yesterday, there was no way the Jets were targeting wide receivers in the first round. Mike Maccagnan doesn't target, he sticks to his board.
And Darron Lee was the best player on the Jets board, so that is who they picked.
The Paxton Lynch-to-the-Jets rumors were created by the media and agent Leigh Steinberg. The story had no veracity.
Lynch was sitting there for the Jets at 20, and they passed.
Lee not only constitutes the top player on the Jets' value board, but also fills a huge need. When you can marry need and value, it's a win-win in a war-room.
When you have Rob Gronkowski in your division, you need to have a top-shelf coverage linebacker.
Not only did the Jets linebackers struggle covering him, but so did their corners. He beat Antonio Cromartie on a fade down the sideline in MetLife last year.
Darron Lee will be a huge help in dealing with Gronk. While he's not as tall as Gronk, the Pats tight end isn't going to run away from him.
Lee runs a legit 4.47 forty.
He can not only cover tight ends, but some receivers.
"Sometimes it would be tight end and sometimes it would even be speed receivers," Lee said about his coverage responsibilities at Ohio State. "I probably have some help here and there a little bit with a safety, but there'd be sometimes I'd have to cover speed receivers."
A couple of people on twitter pointed out at that at 6-1, he might be a little short to cover the 6-5 Gronkowski and other tight ends.
I disagree.
Will he lose some jump ball situations, perhaps, if Lee was bigger than 6-1, 232, would he run 4.47? You have to give a little to get a little.
How many 6-5, 250 pound linebackers can run with tight ends?
At 6-1, 232, he has loose hips and changes direction effortlessly.
No doubt he needs to get stronger. He only bench-pressed 225, 17 times at the combine.
But keep in mind, he came out after his redshirt sophomore year. He's only 21. He is still maturing.
Also, the other thing you get from this guy, aside from great coverage, is a major threat as a blitzer. He gets back there in a hurry. And we know how much Todd Bowles likes to blitz.
And on top of all that, he will help the Jets' punt coverage, which was awful last year.
It's hard to argue with the pick.
The NFL has turned into a passing league where offenses are constantly looking for mismatches.
The Jets' linebacker coverage last year was a mismatch waiting to happen.
With the addition of Lee (and Bruce Carter), the Jets should have less mismatch problems.
A major goal of the Jets' brass this off-season was to get faster on defense.
Adding Lee fits right into that theme. He was the fastest linebacker in the 2016 draft.
[/private]
April 29, 2016
Premium will return by 11:59 pm on Friday.
---