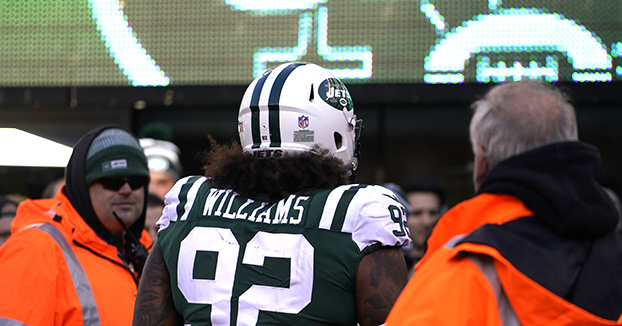 Q)Why did you throw a punch (at Brian Bulaga)?
Leonard Williams: I fully regret it. I wish I could've been there for my teammates – especially in this good game, it was a close game. They went into overtime and everything, I wish that I could have been out there on the field when it was crunch time to help. There's no excuses for what I did. I just overreacted, that's the best thing that I can say there was a little bit of extra touching and stuff like that after the play. I just overreacted.
Q)Did you say anything to Bryan Bulaga?
Williams: No, there was nothing said. It was just like I said, there was a bunch of extra grabbing and hands after the play.
Q)Are you surprised you reacted that way?
Williams: It was really uncharacteristic of me. I'm a pro now. I've been in the league for four years. I know that it's always the second guy who gets looked at and gets ejected. It's always the second guy that reacts, that gets in trouble. I know that I shouldn't have done that. I know that I shouldn't have reacted. My emotions just got high and they took over. I didn't make a smart decision.
Q)Was it more frustrating that you couldn't close the game with your team in a close game?
Williams: Yeah, that's what makes it really hard, honestly. Nothing personal, it's just the fact that I couldn't be out there with my team. Especially when they're out there fighting hard. Seeing the defensive line take extra reps because they didn't have as much rotation because they took me out. There's nothing I could do but watch. It just sucks that in the middle of this game I was just watching and that's all I could do. I've never missed a game since I've been here. I'm always taking a lot of snaps, I'm always on the field and like I said, it's uncharacteristic of me.
I'm not a dirty player, I wouldn't say that I'm a dirty player. Most people that know me and played against me wouldn't say that as well. I think my emotions got high and it was a lot of extra touching and I overreacted.
---