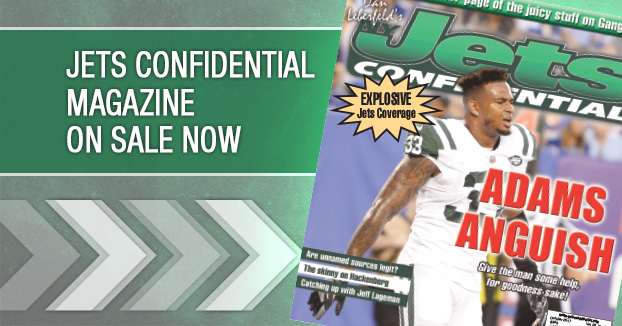 It's already starting. Get used to it. We are going to hear it for months. The Jets need to be cognizant of what is going on, and ignore the white noise.
[private]
Reporter Jason Cole of Bleacher Report said, "The New York Jets are going to be a major player for this one. Rex Ryan up in Buffalo is going to want to bring Revis in no matter what. He loves Revis and Revis loves Rex Ryan. More importantly, Revis really likes New York. He would really consider a reunion with the Jets."
Cole has a strong relationship with Neil Schwartz and Jonathan Feinsod, Revis' two agents.
Seemingly every time Revis' has contract news, which is a lot, Cole is very active in the reporting of what is going on.
He should have a busy off-season.
With most reports, whenever you hear "sources close to Revis,' your default setting should be, "that came from Schwartz and Feinsod."
"On Monday, Michael Felger reported on CSN New England that those close to Revis believe he will re-sign with the Patriots as long as they make him the highest-paid cornerback in the league. In other words, if they pay him more than $12 million per year for several years it won't even matter if the Jets or Bills offer $15 million." – Yardbarker
I don't agree with the premise of this report
Yes, Revis wants to be the highest paid cornerback in league. But no, he won't leave money on the table. So if New England offers to make him the highest paid at $12 million per, but the Jets or Bills offer a couple of million more, he will go to the Jets or Bills.
He's not leaving money on the table, especially now that he has a ring. That is off his bucket list.
In the NFL, once a player has a ring, the parameters for who they might sign with changes. Why on earth would Justin Tuck sign with the Raiders last year? He knew he was going to a bad team, but he has two rings, and as you come down the homestretch, especially after getting the Super Bowl feather in your cap, most players go for the highest bid. Now you have the ring, make the most you can, in this physically taxing sport that takes some much out of your body.
But you can see what the Revis' camp is doing now, starting with the Schefter report on the Sunday morning of the Super Bowl ("Jets are expected to pursue free-agent-to-be CB Darrelle Revis to see if they can bring him back to New York, per sources," Schefter tweeted), they are starting to put the public pressure on the Jets to not mess this up again.
They are trying to lay the groundwork for the Jets, with plenty of cap space, to overpay Revis.
And yes, $13-14 million per, for a 30-year-old corner, is overpaying.
So the PR campaign is up and running again, between the Revis' camp, and their surrogates in the media, and it's aimed at Jets. They are clearly going to try to paint the Jets in a corner, and force them to blow Revis away with a record offer.
[/private]
February 4, 2015
Premium will return by 9:30 pm on Friday
---