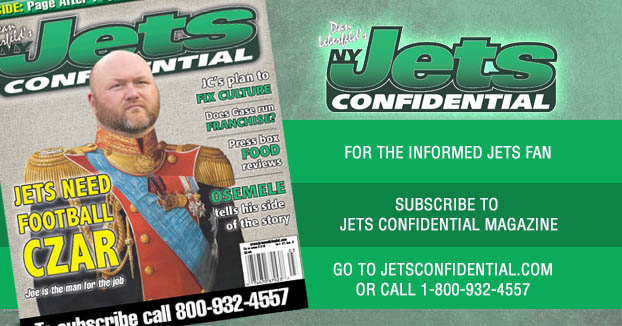 *Q)Did you have a good sense that the Jets were going to pick you if you slipped to them?
Becton: I kind of figured they would pull the trigger if I made it to 11.
Q)You and Joe Douglas are both from same neck of the woods in Virginia – did you feel a bond with him?
Becton: It was definitely a great bond, because when he said the street names, I knew what streets he was talking about. It was a great connection when I found he was from Richmond.
Q)Were you always the biggest kid around, or did have a big growth spurt at one point?
Becton: I was always bigger than the average kid. I was always standing over everybody in pictures. I was always the biggest kid, so it's something I'm used to.
Q)What was the key to your improvement from your second to third year at Louisville?
Becton: I would say the coaching change, honestly, (offensive line coach) Dwayne Ledford came in and told me things I was doing my sophomore year weren't correct. He pretty much told me the right things for my junior year, from the first day I got there, until I left."
Q)Adam Gase said you will bring some "nasty" to the offensive line room . . .
Becton: I think my demeanor is real nasty, I like to see the man on the ground, stay on the ground. When I finish him, I like to get on top.
Q)What happened with the failed drug test at the combine?
Becton: It was just a messed up drug test. I made a mistake, a young mistake and it won't happen again. It was a one-time mistake that is never going to happen again.
Q)Were you concerned the failed test would impact your draft status?
Becton: I was at first. I noticed, the more I got honest with the teams that asked about it, the more I felt better about it, because they were telling me, be honest about it. Don't try and lie. It was better for me to just be honest about the whole situation.
Q)How would you describe your playing style?
Becton: Dominant, physical offensive lineman who likes to finish the guy in front of him every play.
Q)What was it like to see you name flash on the screen when you were picked?
Becton: It was surreal. I was pretty upset because I expected to go earlier. When I got the call, everyone was screaming, so I couldn't hear the call. I had to tell everyone to be quiet so I could hear the call. It was a great moment.
Q)Two tackles went ahead of you. Did you feel like you were the best tackle in the draft?
Becton: I feel like I am. Only time will tell. I just got to go to work. I'm ready to go to work.
Q)What is your ideal playing weight?
Becton: 355, 350 in that range.
Q)What is your weight now?
Becton: 363. I'm working to get that down every day.
*Excerpts from Becton's Zoom Conference Call with Jets reporters on Thursday night.
***********************************************************************************
To subscribe to the monthly Jets Confidential Magazine, click below, or call 1-800-932-4557 (M-F, 9-5). A must-read for Jets fans. So much stuff about Gang Green you won't read anywhere else. Check it out!
---