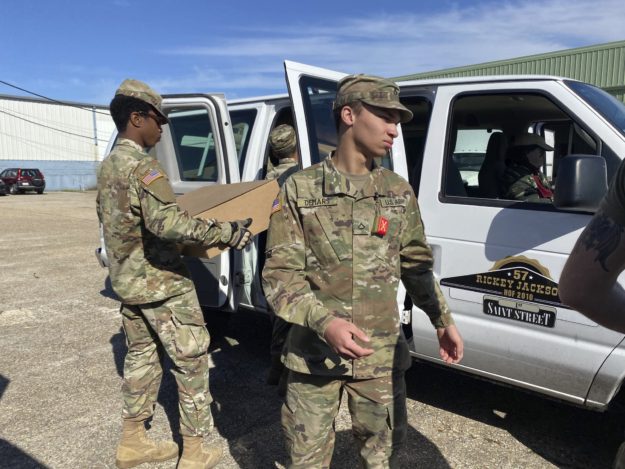 *CANTON, OHIO – The Pro Football Hall of Fame, a number of dedicated philanthropists and Gate Gourmet – a global leader in providing prepackaged food products for the airline industry – are partnering in a nationwide effort to deliver meals to people affected by the COVID-19 pandemic.
Called "Project Isaiah," the initiative already is bringing more than 250,000 boxed meals per week to recipients at no cost to them. In a secondary benefit to the communities served, the project also has saved hundreds of jobs.
"During a crisis, problems must be solved in parallel," said Michael Klein, chairman of Project Isaiah. "Through a unique partnership with Gate Gourmet and the dedicated work of hundreds of volunteers in our communities, as well as those leading this effort, we are reaching the people who are most in need as quickly as possible."
Gate Gourmet is using its production and delivery infrastructure to prepare and transport the boxed meals to elderly men and women, children of all ages and other at-risk groups affected by stay-at-home orders and other restrictions put in place since the novel coronavirus struck the United States dramatically last month.
"Once we learned the details behind Project Isaiah, it was an easy decision to say 'yes' enthusiastically and join as a partner," said David Baker, president and CEO of the Pro Football Hall of Fame. "The mission, values and vision at the heart of Project Isaiah and at Gate Gourmet align wonderfully with those of the Pro Football Hall of Fame."
Gate Gourmet employees deliver the boxed meals to partner agencies, such as food banks, shelters and youth organizations, in 11 major U.S. cities: Atlanta, Boston, Chicago, Detroit, Los Angeles, Miami, New Orleans, New York, Philadelphia, San Francisco and Washington, D.C. Each city also is home to at least one NFL franchise.
Project Isaiah not only provides much-needed food to the virus-affected cities, but it also is keeping Gate Gourmet employees at work while U.S. airlines deal with the travel restrictions profoundly affecting that industry.
"Our Vision statement reads, in part, "It's not just about Canton, it's the world." This is a unique way for the Hall to be part of fulfilling the need for life-sustaining food in cities from coast to coast," Baker said. "Also, two of the pillars of our mission are Honoring Heroes – in all walks of life – and Celebrating Excellence Everywhere. We see Project Isaiah doing all of these things."
Baker called Project Isaiah a "great example of people huddling up."
"We need each other, and the support of our teammates, now more than ever," he said.
To help in the effort, the Hall created a new, 501(c)(3) nonprofit organization: Project Isaiah, LLC. Contributions to the LLC are fully tax deductible, and nearly every penny raised to support Project Isaiah goes directly to the cost of preparing and delivering food to the partner agencies in the 11 cities.
*Press release
---