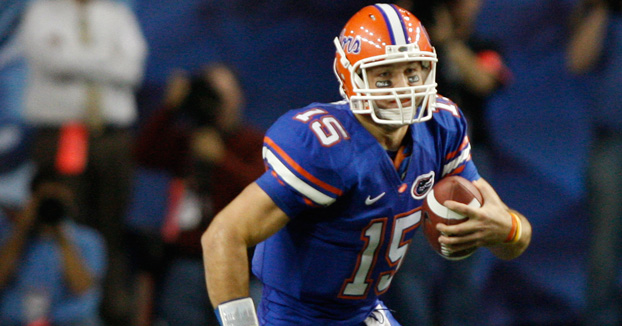 In Florham Park on Monday, Tim Tebow is going to be introduced to the media, and if the Jets don't attempt to really control the message on this one, this could turn into a real three-ring circus.
A backup headline, supporting a Steve Serby column labeled the Jets, "A no-ring circus."
That isn't accurate. They won a ring in 1969.
Check this out, from Gary Myers in the Daily News – "The Jets will hold a news conference for Tebow on Monday at their facility in Florham Park. Because of the expected large media turnout, it will be held in their massive field house. When they drafted Sanchez in 2009, they introduced him in their small press conference room where Rex Ryan holds his in-season briefings."
As Bill Parcells used to say to the press, "This is why I call you guys commies!"
Talk about making a mountain out of a mole hill.
The fact that the Jets are holding the presser in a bigger room is just about being pragmatic.
To compare the room size of Sanchez's initial press conference to Tebow's first Jets presser, is a reach, and somewhat derisive.
But get used to it folks. That is what the Daily News, and others in the media are going to do, non-stop, when it comes to the Tebow-Sanchez story.
The Jets complex in Florham Park is spectacular in many ways, with a final cost of $75 million, but whoever designed the press area, did a very poor job.
No, don't get the violin out for another reporter complaining about petty stuff. I'm just dealing with reality.
Myers described the regular press conference room as "small," and that is a "big" problem.
A major issue at the Jets old complex, at Hofstra, was there wasn't enough room for all the reporters and TV cameras in the press conference room.
When there was a big regular season game, or playoff contest, there were so many people in that room, it was a fire hazard. It was like one of those 1960's scenes, when kids used to jam as many people as they could into a Volkswagen.
But for some strange reason, even though they had 10-15 acres to work with in Florham Park, the interview room is about the same size as Hofstra. And on top of that, the X-Frame (I am out of league talking construction), is inside the room and exposed, so that cuts down on space even more.
Some people speculate that Eric Mangini or Jay Cross, neither who had cared too much for the press, were involved in decision to make this room so small.
To make a long story short, the turnout for the Tebow –presser is going to be so extensive, so it would just be foolish to even think of holding the press conference in the regular press room.
Whether he's a #2 quarterback or not, he is one of the most popular athletes in the United States, and they need a bigger room for the presser.
So for people to make a story out of this size of the room for Sanchez, compared to Tebow, is a reach, and somewhat petty.
But as "The Carpenters" once sang, "We've only just begun."
(Premium will return by 9 pm on Monday.)
---