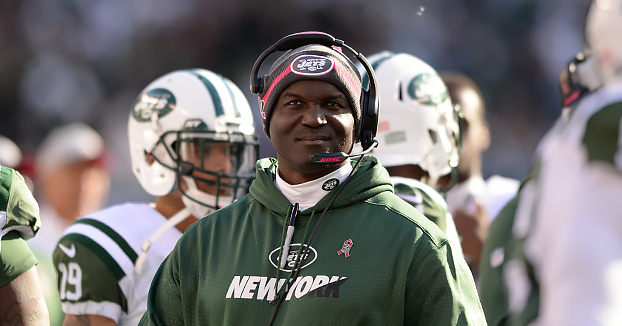 Q)Do you plan to go with just Dion Bailey and Marcus Gilchrist as the safeties on Sunday?
Bowles: Pryor is out this game so we'll go with just the two. All the corners can play back up safety and we're discussing that now as well. We'll make a move tomorrow or we won't.
Q)What do you know about the alleged locker room sweep in New England during Week Seven?
Bowles: I know nothing about it.
Q)How is Aldon Smith playing for Oakland?
Bowles: He looks just like he did in San Fran. He's a heck of a pass rusher, he plays the run, he drops, he's a good football player. We've got our hands full on the edge.
Q)Where you suspicious of New England (bugging)?
Bowles: No, we just go up there to play football.
Q)What kind of practices did you guys have coming off the tough loss in New England?
Bowles: I think any loss is a tough loss, but we had a good week at practice. Guys were energize.
Q)You played safety in the NFL – how amazing is it to you that Charles Woodson is still playing at a high level at 39?
Bowles: To play that long alone is unique. Very few guys get to do that. This guy is unbelievable. He went from corner and made the transition to safety – still doing it at a high level. One of the best in the game and to be 39-years-old doing that, he's a better man than I am.
---