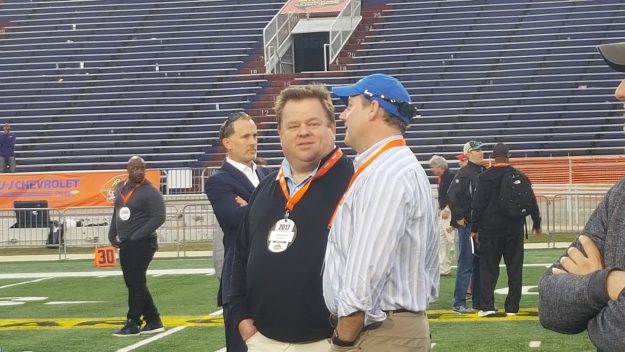 Mobile, Alabama – We continue our coverage from the Senior Bowl in Mobile, Alabama. A lot of stuff to get into, so let's get started . . .
[private]
A guy who has caught my eye the first couple days of the Senior Bowl is Temple linebacker Haason Reddick from Camden.
He's playing a lot of inside linebacker this week, but was used as an edge rusher at Temple.
The guy has very good instincts and has a knack for finding the ball – weaving through the clutter and making the play.
Versatility is so important in the NFL, and this guy has starting potential at inside linebacker, but can move outside on third down and rush the passer.
He could make an interesting second-round consideration for the Jets . . .
The Jets could use a left tackle coming out of the draft, and a guy they might be able to get after the first round is Pittsburgh's Adam Bisnowaty. He is 6-6, 305 pounds and carries the weight amazing well. He's very lean for his size. And since he carries the weight so well, he moves very nicely for his size. He looks like a guy who is going to play in the NFL for long time . . .
I asked a Jets official if wide receiver coach Karl Dorrell is a candidate for the offensive coordinator job, and he said he couldn't confirm it for me.
Dorrell, the former UCLA head coach, is a really smart coach, and if they promoted him, they could keep parts of their current playbook (not throw an entire new playbook at all their young players, which is bad for development).
Considering some of the people who are being mentioned, I think Dorrell might be the way to go. Dorrell is really cerebral, and would be a good right-hand man for Bowles as a former head coach in a major conference. I'm not saying he was an elite head coach at UCLA, but he did take them to five bowl games in five years . . .
I mentioned Villanova defensive end Tanoh Kpassagnon yesterday, a physical specimen at 6-7, 290. He made some nice plays in Tuesday's practice.
But watching him so more today, I think he might be a little bit of a project. Like a lot of tall linemen he tends to play with his pads too high, which makes it easier to block him him.
Also one scout told me he has "stiff ankles." You hear this term quite a bit in scouting, and it's not a good thing to hear about a pass rusher . . .
This linebacker from Florida, Alex Anzalone (no relation to Fireman Ed Anzalone) continues to make a lot of plays.
He's very, very instinctive, and looks good against the run and in coverage.
This is the kind player the Jets could use in this draft. They need to load up on smart, instinctive players (too many blown assignments this past season), and this guy is just that . . .
One thing to consider about these Senior Bowl practices – there are no officials (NFL practices have officials calling penalties). So watching these practices I'm seeing a lot of offensive linemen holding and getting away with it . . .
To help you put a face to a name – the guy above on the left side is perhaps the NFL's most powerful agent, Jimmy Sexton, taking in a Senior Bowl practice.
[/private]
January 25, 2017
Premium will return by 9:30 pm on Thursday.
---