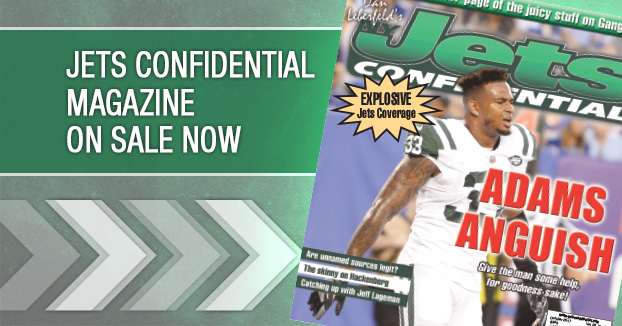 In 2017, the New York Jets need to act like their head coach when it comes to handling this aspect of the job . . .
[private]
I will get back to the topic in the first sentence in a bit.
People wonder how Jay Cutler would play with the New York media. First off, he played in Chicago the last eight years. Huge media market, and the focus on the Bears is more intense in Chicago than on the Jets in New York. Why? Jets share this market with the Giants. The Bears are the only game in town. Bears football is a HUGE in Chicagoland.
Secondly, the Jet shouldn't make any decisions based on opinion polls. Who cares if the media thinks this will work? Thirdly, every Jets QB since Joe Namath has basically left town as a war criminal – destroyed by the media and a lot of fans. So what the heck is the difference? They all seem to leave here public enemy #1, so why is Cutler a risk with this in mind?
We will see what happens with the QB position, but I like the Jets measured approach so far in free agency. I just don't think this is the off-season for the Jets to spend like lunatics. You saw where that got them the previous two years. Time for a different approach.
So if the Jets don't sign Cutler (at a reasonable price), a trade for A.J. McCarron would make sense. He would be cheap (still on his rookie contract). The Bengals reportedly want a second-round pick for him. I believe David Wyatt suggested this, and it makes a ton of sense – offer Sheldon Richardson straight-up for McCarron.
After three preseasons of action and three regular season starts and a playoff game appearance, he's higher on the growth curve than Christian Hackenberg and Bryce Petty. Also, after handling the pressure-packed job of Alabama QB, the pressure of New York won't be too much for him.
Look, I'm not putting McCarron in Canton, but he's definitely worth bringing in, at the very least as a bridge to Hackenberg, who could use another year of development, especially since the Jets are throwing a new playbook at him. It's never helpful to a young QB to go into a new system entering Year Two.
Robert Griffin III isn't a great idea. First of all, he's a very injury-prone. Secondly, he's not great at reading defense. The Jets already have a QB struggling to wean himself off the Baylor offense, which doesn't translate to the NFL.
Colin Kaepernick is also a bad idea. It's not so much his activism as the fact that he's just not a very good QB right now. The Jets pass defense was awful last year, and Kaepernick struggled throwing against them in that ugly San Francisco loss last year to Gang Green.
The Jets need to be boring as heck in 2017 in the locker room and off-the-field. Their locker room needs to be devoid of controversy and money quotes. They need to cut down big-time on distractions. Kaepernick is a lightning rod they just don't need right now.
In 2017, the Jets need to be like their head coach with the media – boring has heck, and that is a good thing. A little less conversation, a little more action. Be as boring as watching paint dry.
Not having Mr. Media around anymore might help.
[/private]
March 10, 2017
Premium will return by 9:30 pm on Monday.
---