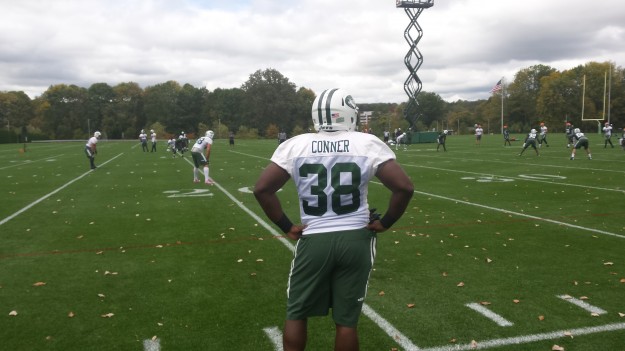 Florham Park – I was the only one watching practice today because everyone else was at Woody Johnson's presser. Here is some of what I saw . . .


This is a premium article. You must be a subscriber to continue.
Don't miss anymore Website Whispers, become a Dan's Insider today!

Already a subscriber? Click here to login.
Not registered? Click here to subscribe or call 1-800-932-4557.
Watching practice today, it occurred to me how remarkably healthy the Jets after the first month of the season.
They basically had one player held out of practice today from the beginning – David Nelson (Eric Decker pulled himself out later to protect his hamstring).
Nelson was sprinting pretty fast on a straight line with the trainers. He wasn't doing any cutting.
But after the first 45 minutes of practice, I saw him leave the practice field, and go back to the trainer's room.
He's probably a long shot to play, but don't rule it out. This could be a game-time decision . . .
When I saw Calvin Pryor leave the locker room after the Jets-Lions game, it looked like there was no way he was going to play this week. He was hobbling pretty bad.
But watching him today in practice, I think he's going to play. He looked good running around, and was actually doing a lot of blocking on kickoff return. He wasn't limited at all.
"I'll be ready," Pryor told jetsconfidential.com . . .
Linebacker coach Bobby April was working with the inside linebackers extensively on pass coverage today in practice.
David Harris didn't have a great game in coverage against the Lions, and this week the Jets face a pair of tight ends who present a major challenge in Antonio Gates and speedy Ladarius Green.
April was working with the inside linebackers a lot on flipping their hips and turning to run with targets . . .
Being around the team this week, I get the sense that Bilal Powell is going to be a lot more involved in the offense this week. But then again, he couldn't be less involved. He had got no touches last week . . .
The Jets now have some terrific options at kick returner.
Today, three guys were rotating in practice – Saalim Hakim, Walter Powell and T.J. Graham.
Hakim might be the fastest player in the league, but he hasn't been a great kick returner so far. He isn't great at setting up and following blocks. He should get better in time. He's very raw right now. Remember, this guy didn't play a lot of football before arriving in Florham Park.
I've watched Walter Powell for several weeks returning kickoffs in practice, and to me, he looks like he can be special. The word to describe him is "smooth." He glides in and out of his breaks, and plays faster than his timed speed (4.62). He's a natural returner.
While at North Carolina State, Graham had two kick return TD's and two punt return TD's.
If Hakim doesn't start having more of an impact as a returner, Powell and Graham give the Jets viable options . . .
The Chargers have a 6-9 left tackle in King Dunlap. You don't see many offensive tackles that tall. And he has really, really long arms, which always a great thing for an offensive lineman. Karl Dunbar has been working with his ends on the importance of shedding Dunlap's hands, to neutralize his arms . . .
Even though the Chargers are the 31st rushing offense in the NFL, they do like to run a lot. And even if it's not going well, they stick with it. This isn't "Air Coryell." The Chargers are dedicated to running the ball . . .
The Jets might have to tweak their approach a little with limited players coming off injuries.
First they overplayed Dee Milliner coming off a high ankle sprain in Green Bay, and he had a setback. Milliner played 40 snaps.
And Eric Decker clearly overdid it last week, and now he's iffy to play this week. Decked played 51 snaps.
Bottom line, and this isn't Monday morning quarterbacking – you need to keep the reps down in these kind of scenarios.
Look how the Lions handled Calvin Johnson last week. He had an ankle, and they greatly limited his snaps . . .
October 2, 2104
Premium will return by 9:30 pm on Friday.
---