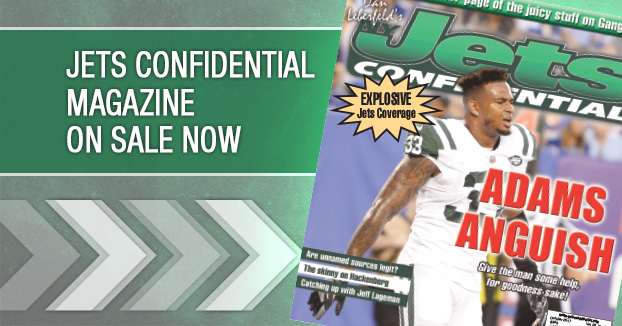 New Jersey – Let's take a closer look at the Devin Smith situation in today's Website Whispers. Sign-up now for Premium Whispers on this website . . .
[private]
Unfortunately for Devin Smith, who is a very nice kid, he is out for the year with a torn ACL.
"He was grasping everything mentally and he was playing faster," said Todd Bowles. "When you learn more and you get the mental part of it down, your game start's to play faster and he started playing faster from a route standpoint, from a blocking standpoint, from a recognition standpoint. It's unfortunate that this happened because he was coming around. He was really going to help us."
I don't get the mindset of Bowles regarding this player.
The Jets spent a fortune on players this off-season, signing four defensive backs for big money, trading for Brandon Marshall and giving him a new deal. They also signed a left guard (James Carpenter) and gave him a large contract.
And obviously they are starting a 33-year-old quarterback.
All this points to a "win-now" mentality.
So within that context, why was it important to have Devin Smith playing a lot and learning to play faster on the job? Or learning the mental part on the job. I absolutely don't get this.
He was playing ahead of Jeremy Kerley and Kenbrell Thompkins, two veteran receivers who are much higher on the growth curve, play faster, are both polished route-runners.
What's the point of this approach?
And you saw Smith in the first half yesterday – three throws from Fitzpatrick that weren't even close. On the deep pass he wasn't open. On the other two, it didn't seem like Fitzpatrick and Smith were on the same page, the way Smith and Marshall/Decker are.
Don't get me wrong. I'm not writing off Smith. I'm not calling him a "bust." I just have no understanding of how giving him all these reps in important games, when he's still learning how to run routes, set-up NFL cornerbacks and so forth, fits into the plan of a veteran team trying to win now.
I'm sorry. I don't want to sound pompous, but Bowles and Maccagnan were wrong on this front. The coach and the GM have done a lot of good things this year, but this wasn't one of them.
I guarantee you, if you gave Fitzpatrick a dose of truth serum, and then asked him who he'd rather have out there, prior to the injury, he would have said Thompkins/Kerley ahead of Smith.
It's not the Fitzpatrick has anything against Smith, but I don't think he could trust him to consistently be in the right spot. This is common for rookie receivers. NFL systems are so much more complicated than college systems. His head was spinning.
I like Todd and Mr. Coffee, but their approach with this player in 2015 is a head-scratcher to me.
Don't play draft politics guys. You are both better than that.
Treating this year for Smith, like a red-shirt year, playing him here and there, but not overdoing it, as he learns, would have been fine.
It was almost like they didn't want deal with the beat writers making a mockery of the pick if he was a healthy inactive for a few games here or there. Obviously I can't prove that, but over the last month, Thompkins constantly being inactive, while Smith was active, from a football standpoint, wasn't a great move. Having Kerley active this whole time, but having Smith playing in front of him made little sense.
And I don't want to hear about the speed thing. He didn't catch one deep ball the entire year, and never got behind a defensive back deep. It didn't happen.
I think the kid has a big upside, but the way the Jets' handled him this year was far from ideal, especially since he missed all of training camp with broken ribs.
[/private]
December 14, 2015
Premium will return by 9:30 pm on Tuesday.
---