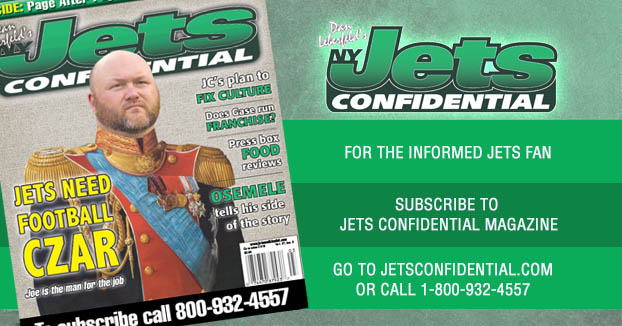 New York Post headline – "Darrelle Revis digs at Jets while basking in title with Belichick."
I read the article over and over, and failed to find a "dig" at the Jets.
This is the quote that the Post writer claimed was a "shot" at the Jets.
"Since I sat down with [Patriots owner] Robert Kraft and Bill Belichick [last spring], this was the reason — to be part of this legacy that we did tonight and win the Super Bowl, to be part of something great," Revis said.
"I'm happy they had arms open for me, especially coming from New York. It's been an amazing journey."
Where is the dig?
To me, he wasn't ripping the Jets at all.
The way I read it, he was just saying it was great that the Patriots welcomed him with "arms open," even though he used to play for a fierce rival.
***The new issue of the monthly Jets Confidential Magazine is on news stands. Lots of Jets Whispers you won't read anywhere else, and tons on the Jets' new brass. Pick one up on a news stand, or by calling 1-800-932-4557 (M-F, 9-5). You can also subscribe to this monthly must-read for Jets fans on this website.
---