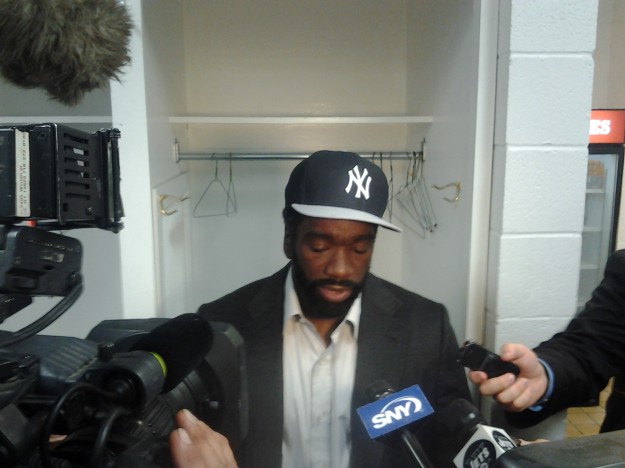 Orchard Park, NY – Dan checks in from Ralph Wilson Stadium with some "Whispers" and notes from the Jets-Bills game . . .

[private]

The Buffalo Bills were without two of their top three receivers today, Stevie Johnson and Robert Woods, and still put up 37 point with a rookie quarterback.

That is embarrassing, especially coming off a bye-week, with two weeks to prepare . . .

People keep asking why the Jets are so inconsistent.

The answer is simple.

It's a quarterback-driven league, and their quarterback is very inconsistent.

For people to act like the inconsistency is this big mystery aren't dealing with reality . . .

Having Mike Pettine, Anthony Weaver and Jim O'Neil (all former Jets defensive assistants), really helped the Bills as far as knowing the tendencies and weaknesses of some of the Jets' offensive linemen, from practice, and personnel meetings.

And the one guy whose number they really had was Austin Howard. They attacked him successfully with inside moves.

Early in the game, NT Marcel Dareus torched Howard with an inside move, and hit Geno Smith as he threw.

Howard was beat on an inside move by DE Corbin Bryant who stopped Chris Ivory for loss of three . . .

So often on interceptions, defenders do a nice job of jumping routes, but in the case of a couple of Geno Smith picks today, they didn't even have to jump the route.

A perfect example was a Smith pick late in the third quarter by S Jairus Byrd. It was such a bad throw, such a poor diagnosis of the defense, Smith never saw Byrd, and threw it right into his hands.

Byrd even said after the game that he didn't have to move, and that fellow safety Aaron Williams told him to expect that route by Jeff Cumberland.

The Jets route-tree seemed very predictable today . . .

John Idzik was taking a lot of notes today in press box during the game.

One of them should be about Geno Smith and how he locks on to his primary read and forces it there too often.

After the game, Idzik put his arm around Smith and said something to him.

It seems like are attached at the hip. That is his quarterback.

And one beat writer wonders what happened to Idzik's "competition" mantra we heard over and over in the spring and summer.

"How is Idzik about competition when there is nothing Geno Smith can do to lose his job?" asked the beat writer (to another writer).

Good question . . .

Stephen Hill is a physical mess right now.

He's dealing with foot and knee issues, and he was in the trainer's room after the game, and left the stadium with an electro-stim device connected to his body  . . .

Tommy Bohanon had a big ice pack on his left shoulder after the game . . .

Matt Simms has a major problem as a thrower – he has a very low trajectory on his passes, and it almost led to a pick in the end zone by CB Leodis McKelvin. Hill was in back of McKelvin on the right side of the end zone, but the pass was flat, and went right into McKelvin's hands.

He dropped it.

"I'm happy he plays DB and I'm happy he doesn't have great hands, because that was a bad throw," Simms said.

I saw this all low trajectory issue all summer. He has to work on it.

True he has a rocket arm, but you have to put air under certain passes, and Simms doesn't seem great at that right now . . .

Jets run defense was outstanding – Bills ran 38 times for 68 yards . . .

Rex Ryan didn't seem thrilled with the Jets offensive plan today.

"We have to look hard at what we're doing," Ryan said about Geno Smith's performance today.

He was asked again later in the press conference about Smith, and he said again, "We have to look at what we're doing."

[/private]

November 17, 2013

Premium will return by 9:30 pm on Monday.
---