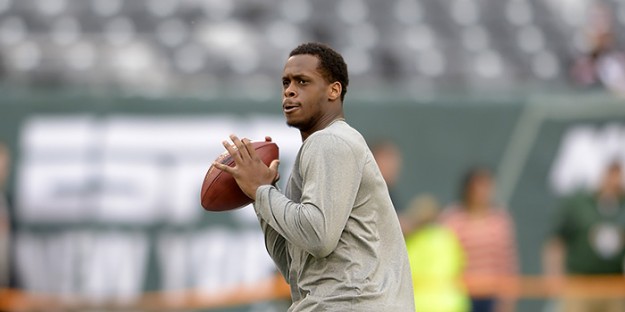 Florham Park – You have to feel bad for Geno Smith. Not only are opposing defenders coming after him, but now also is the media, and it's about to take a bad turn on this front . . .
[private]
You have to feel bad for Geno Smith – he's getting from all angles.
The poor kid is getting slammed all over the place.
As I've said many times, I don't blame him, I blame that powers-that-be, that thrust him into the lineup way too fast.
Most scouts felt he was a project who needed to sit for a few years. Obviously John Idzik felt differently.
So the fact the he's struggling isn't on him, but on those who handed him the car keys to quickly.
Let's not forget, he's only 23. You still have a lot to learn about life at that age, and he might have made a mistake today taking on the New York media on a conference call with the Boston press.
"I think, obviously with everything that goes on with the media, a lot of things are, I would say, miscommunicated, and then it just gets misprinted and then misunderstood," Smith said. "I don't have any quarrels with anything,"
Look, I understand his frustration with the press. Some of the stuff that has gone on is troubling, especially when a reporter tried to get under his skin a couple of weeks ago, asking him if putting Mike Vick in would give the team a spark. Smith raised his voice a little with this guy. What player, in his right mind, would say, "Yes, I should be benched to spark the team?"
But his recent press battles and comments could backfire on him.
Reporters can be very vindictive, and when they feel you are attacking them, they are apt to fire back.
This quote to the Boston press wasn't a good idea, especially in New York.
And making matters worse was something else that happened today.
Smith addressed the media for about three minutes.
It was supposed to be longer, but not all the reporters were over at his locker. They were with other players, and some didn't know Smith was speaking. So the limited number of reporters with Smith ran out of questions, and PR ended the session.
Manish Mehta was livid over this, as was an ESPN New York reporter, and gave PR officials an earful.
A PR guy went over to Smith and asked if he could make himself available for a few more questions with the people who missed his early briefing. He shook his head "no" repeatedly.
While it shouldn't be the case, I think the quote, and this short press briefing today, are going to hurt him.
Some in the press have cut Smith slack because they've been appreciative of how cooperative he's been. They feel he's been more helpful than Mark Sanchez.
That goodwill took a big hit today, and I think it's going to be reflected in the coverage moving forward. I hate to say it, but I think that is what's in the offing.
[/private]
October 13, 2014
Premium will return by 9:30 pm on Thursday.
---