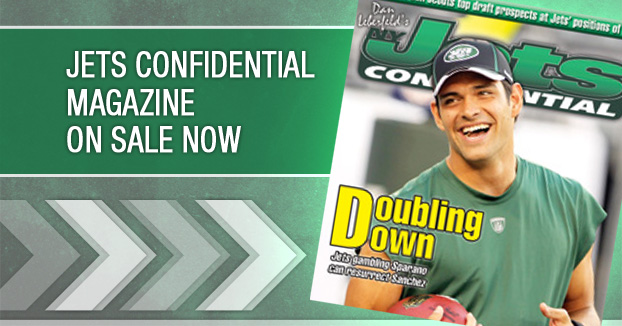 When the Jets are on the board with the 16th pick of the first round, Stanford guard David DeCastro might be too good to pass up. He's an outstanding guard prospect. Here is a conversation with DeCastro . . .
Q)What kind of impact did Jim Harbaugh have on you?
DeCastro: He's an enthusiastic guy who demanded a lot out of us. He works very hard — dedication every day, on and off the field. It was huge.
Q)Would it be meaningful would it be for a guard to go in the top 15?
DeCastro: Of course, definitely.
Q)What are some of your best characteristics?
DeCastro: I'm aggressive. I like playing football — I enjoy it. Good balance, good leverage, I'm a hard worker, but I really don't like talking about myself, so…
Q)How much did playing in a pro offense at Stanford help you prepare for the NFL?
DeCastro: The pro-style system was great. Run blocking, pass blocking. You come to [the NFL] and the terminology is the same for a lot of teams in the West Coast Offense.
Q)How much did you weigh when you first arrived at Stanford?
DeCastro: When I first got to Stanford, I was about 300 pounds.
Q)Do you try to monitor which NFL teams need guards?
DeCastro: [With free agency], who knows right now? I just control what I can control. They can make the decisions. It's not mine to make.
Q)Why did you come out of school early?
DeCastro: I talked to my coaches, and I thought it was the best decision to turn my paperwork in to the NFL committee (and see what round they projected).
Q)What round did the committee have you going?
DeCastro: I'm not going to say that [laughs].
Q)What was your major at Stanford?
DeCastro: It's called Management Sciences/Engineering. It's just a fancy term for a business degree. I'll get [my degree] in the spring.
Q)What team did you root for growing up?
DeCastro: I'm from Seattle, so I followed the Seahawks growing up.
Q)What kind of questions do teams ask you in meetings?
DeCastro: Pretty much the same questions in a lot of the interviews.
Q)Do you like all these team interviews?
DeCastro: I actually do — it's easy for me to just talk about football and be myself. I enjoy it.
Q)What are some things you feel you need to work on?
DeCastro: There's a lot to work on — just technique in general. Football is something where you're always chasing perfection. There's a lot I can get better at. Using my hands, being more balanced … I mean, the list goes on.
Q)How many sacks did you give up last year?
DeCastro: Zero.
Q)How many did you give up in your career?
DeCastro: One that I can think of.
Q)Who was that against?
DeCastro: Brian Price of UCLA, in my freshman year.
Q)What happened?
DeCastro: I set outside, and he came back and countered inside. He sacked Andrew, yeah. Memories [laughs].
Q)What's Andrew Luck like as a roommate?
DeCastro: He's great — me and him are the clean ones. There's some article on Yahoo that said our
room was dirty, and it's not because of me and Andrew. It was the other guys.
Q)In terms of run blocking, where do you think you are right now?
DeCastro: You know, I think I'm good, you can always get better. I think I'm a bit too heavy sometimes, coming off the ball. Just a little too forward, and I need to work on that.
(Premium will return by 9:30 pm on Wednesday.)
---