Content available exclusively for subscribers
Please subscribe now to unlock this article!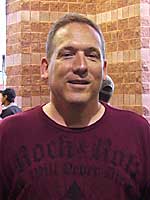 Here is a heaping helping of Dan Leberfeld's Jets website Whispers. Dig in –
The offensive tackle from Matt Stommes is a major project. He came into Minnesota as a defensive lineman, and was switched to the offensive line as a junior. However, he only started five games. He is going to need time. It's not going to happen in one summer. He has the athletic ability and size to make it work, he just needs time . . .
Weight loss contests do nothing for me, but it is a great idea for Kris Jenkins to lose some weight. For Jenkins to play on two reconstructed knees at 360 pounds is not a good idea. He blew out his right knee in 2005 and his left knee last season.
Seriously, he should be playing in the 320-330 range. That is still plenty big.
We often think of Jenkins as an old player, but he's actually only 30. He could play a good three-four more years if he takes care of himself, and a significant weight loss would help his cause.
Think about it. He's freakishly quick at 360, can you imagine what he would do at 330? . . .
Speaking of Jenkins age, it's interesting to note that his backup, Sione Pouha, who came into the league after him, is actually older. Pouha is 31. Remember, he entered the league at 26 because he went on a lengthy Mormon mission while at Utah . . .
I've been told by a high-ranking Jets source that the Alan Faneca release was in no way financial. It was strictly a performance based decision . . .
With so much attention being paid to Donovan Warren, some of the Jets other top shelf undrafted free agents are kind of flying under the radar.
First of all, this tight end out of Illinois, Jeff Cumberland, is an athletic freak. He's 6-4, 250, runs 4.5 and has a 40-inch vertical leap. He wasn't very productive in college, but a major reason for this was the quarterback instability at the school. It's hard to put up big numbers as a receiver or tight end (and he played both) when you don't have a competent quarterback to throw you the rock.
He needs a lot of work on his blocking. I'd stash him on the practice squad for a year.
The story of Oklahoma cornerback Brian Jackson is very similar to Warren. He had a very good college career, but ran a bad forty before the draft, clocking over 4.6. However, he was first team All-Big 12 last year, and is a very, very tough player. Perhaps, like Warren, the Jets will toy around with him at safety.
Nevada LB Kevin Basped probably should have stayed in school for his senior year because he needed the work, but the guy did have 19 sacks the last two years, and has a terrific upside.
One reason some scouts weren't that high on Basped was the level of competition he faced. And when the Wolfpack did play against major programs, he disappeared. But considering the Jets didn't pick an outside linebacker in the draft, we should consider him their OLB draft pick. He could have easily gone in the fifth-seventh round area. He has a big upside, just needs a lot of tutoring . . .
With all the focus on Tanner Purdam as the leading candidate to replace James Dearth, don't forget that tight end Matt Mulligan is also working at the spot, and if the Jets want to save a roster spot, it would be ideal for the third tight end to also be the long-snapper . . .
Keep an eye on safety Brodney Pool, a very underrated free agent signing. This guy was a big-time prospect coming out of Oklahoma. He is every bit the athlete that Kerry Rhodes is, and perhaps he's even more athletic . . .