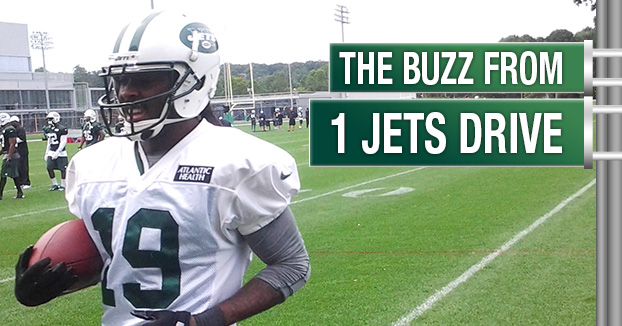 FLORHAM PARK. N.J. – After being re-signed by the team on Monday, both linebacker Bryan Thomas and wide receiver Patrick Turner were on the field today, with Thomas spending practice working with the trainer during practice as he continues to recover from his ankle injury.
In addition to Thomas, wide receiver Stephen Hill (hamstring) and Bart Scott (toe) did not practice. Both players rode the stationary bike. Head coach Rex Ryan said on Monday that Hill was "iffy" for Sunday's game against the 49'ers and the rookie was unwilling to say that he'd be available this weekend. John Conner and Dustin Keller both worked to the side with trainers, primarily doing agility work . . .
It is noticeable that Royce Pollard could be a very good player in this league. His route running needs work, but Pollard has outstanding quickness with his hands and he can quickly recover ground to make a play on the ball. Most impressive is that his route or his hands are rarely thrown off when he accelerates . . .
With what is likely a season-ending injury to cornerback Darrelle Revis, his replacements are under scrutiny and it is a mixed bag at best. During one-on-one drills, Antonio Cromartie struggled on a pass from Mark Sanchez to Santonio Holmes on an underneath route. Cromartie was stride for stride with Holmes for 10 yards until the wide receiver pulled up, leaving at least two steps between himself and Holmes.
Sanchez may have thrown a perfect pass to Holmes, but Cromartie's long stride made it impossible for him to be in a position to make a play . . .
On the next play, Kyle Wilson had a nice pass break-up on a Sanchez 30-yard pass down the sideline to Jeremy Kerley. Wilson was on the inside of the deep route and rode Kerley along the sideline and read the play well, using his right arm to make the break-up. It was encouraging since on Sunday in Miami, Wilson struggled somewhat.
Then there was a solid play by Ellis Lankster who hung with Kerley a few plays later, showing an intriguing mix of physicality and solid footwork . . .
Signed to the practice squad on Monday, former Houston Texans running back and William & Mary star Jonathan Grimes saw the move to the Jets as a good one for his immediate playing prospects.
"I just wanted to play and I had the opportunity to play (here)," Grimes told Jets Confidential. "I wanted to contribute and [the Jets] told me that I have a chance here to play running back, play special teams."
The move might make sense for Grimes as Joe McKnight now is moved to defense . . .
As just alluded to, McKnight will get some reps on defense this week. Two years ago as a rookie, McKnight saw reps on the scout team at cornerback and impressed as he did play the position in high school (and had a willingness to play at cornerback in college at USC but the coaching staff wanted him to concentrate on running back).
Ryan said that "he has the necessary skills to be able to play corner. He's got speed, the size, athleticism, the ball skills so I don't think there's any reason not to think Joe McKnight couldn't be a corner. It's just going to take time obviously."
It will be a work in progress as McKnight showed on Wednesday. His footwork is solid and he has good hips for the position, but he struggled with his hands while jamming receivers at the line, something the Jets scheme frequently calls for of their cornerbacks. For McKnight though, the focus on defense might be good as he doesn't appear to be a part of the Jets rotation at running back . . .
Back with the Jets, Turner told Jets Confidential that he is 100 percent healed from his hamstring injury. Turner was cut after the Jets Week 1 win against Buffalo and that "they told me I'd be back after two weeks and here I am." He said the timing of his injury likely coincided with his being cut but that "they told me I would be back." Turner was unaware of any interest from other teams but he planned on returning to the Jets.
Kristian R. Dyer cover the Jets and can be followed @KristianRDyer
August 26, 2012
(Premium will return by 9:30 pm on Wedesday.)
---