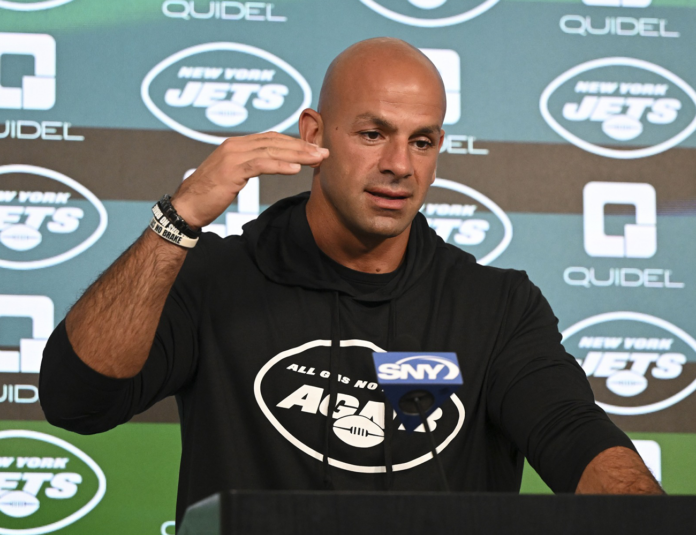 Content available exclusively for subscribers
Please subscribe now to unlock this article!
The start of the press conference . . .
was a little delayed.
After training camp practices, Robert Saleh speaks first, and then players follow.
But today, the Jets had a player speak first (Bryce Huff) and then Saleh arrived.
Why?
My guess would be there was a skull session at 1 Jets Drive on how to deal with Denver coach Sean Payton trashing Jets OC National Hackett for the job he did as Denver's head coach last year.
It turns out, they probably didn't need to have a strategy session, if that indeed was why he was delayed, because the story didn't seem to be of much interest to those in attendence. It took a while for anybody to ask about it, and then when somebody finally did, and it wasn't a beat-writer, but New York Post columnist Mark Cannizzaro, and there were no follow-up questions.
Here is what Payton said to USA Today's Jarrett Bell:
"Oh, man, there's so much dirt around that. There's 20 dirty hands, for what was allowed, tolerated in the fricking training rooms, the meeting rooms. The offense. I don't know Hackett. A lot of people had dirt on their hands. It wasn't just Russell (Wilson). He didn't just flip. He still has it. This B.S. that he hit a wall? Shoot, they couldn't get a play in. They were 29th in the league in pre-snap penalties on both sides of the ball.
"That wasn't his fault. That was the parents who allowed it. That's not an incrimination on him but an incrimination on the head coach, the GM, the president and everybody else who watched it all happen." . . .
Look, I know it's just one practice, but I'm not sure left tackle is the best position for rookie Carter Warren on the NFL level.
There were three plays in a short period where he had some issues today. First Will McDonald beat him off the edge for a QB pressure, then another defensive lineman (didn't catch the number) beat him with an inside move for another pressure, and then he got called for a penalty when he grabbed defensive end Ifeadi Odenigbo around the neck after getting beat off the edge.
I'm think Warren is a very good prospect, but as a right tackle or guard, probably not a left tackle, and that is okay. I think many scouts who watched him during his career at Pitt would agree . . .
Zach Wilson takes off and scrambles perhaps too much in practice. Every rep is so valuable for players in camp with the huge rollback in practice time in recent years due to the CBA. So when a QB runs too much, it takes away from a valuable rep for receivers, defensive back, and others involved in the passing game.
The summer for his for experimenting in the passing game, taking chances, but perhaps Wilson doesn't want to be called out by fans and the media stat crew for throwing a pick.
Another reason scrambling too much is a waste is that nobody is allowed to touch the QB. That is why they here a red jersey, so what are you really accomplishing by running when you are in bubble wrap? . . .
Joe Tippmann was wearing a compression sleeve on his left leg today . . .
Jumbo wide receiver Irv Charles had a terrific block on cornerback Michael Carter on a screen to running back Michael Carter contributing to this successful play. At 6-4, 225 pounds, Charles is almost like tight end as a blocker . . .
Mekhi Becton was back at practice today, in uniform, but didn't see him take a lot of reps.
He missed practice on Wednesday because he was surgical knee was bothering him..
He's probably going to have to come to grips with the fact that a knee, that's had two surgeries on it, is never going to be exactly the same. That doesn't mean he can't be a very good player again, but just will have to deal with that knee bothering him sometimes.
Looking at him today, while he did a heck of a job losing 40-50 pounds, and getting to the 350 area, that is a still a lot of weight on a surgical knee. For instance, offensive tackle Greg Senat. is 6-6, 305, and still plenty big for the offensive tackle position.
That point being – Yes, Becton did a heck of job working his tail off to drop all that weight, but he is still carrying a lot of weight on a knee that has been surgically repaired twice.
July 27, 2023
Premium will return by 9:30 pm or sooner on Friday.