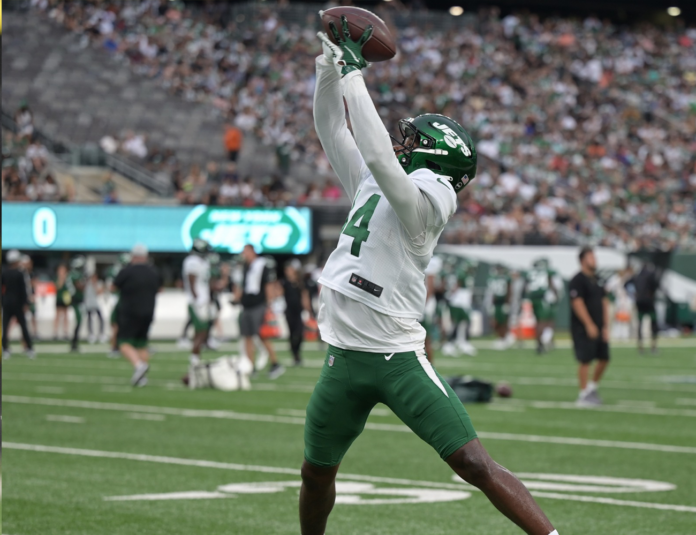 Content available exclusively for subscribers
Please subscribe now to unlock this article!
Rookie safety Jarrick Bernard-Converse
had a walking boot on his left foot yesterday watching practice from the sidelines, and today, he was watching practice without one . . .
One of the most important free agent signings for the Jets this off-season was nose tackle Al Woods, and he could end up starting next to Quinnen Williams in the team's base defense.
The Jets needed a massive run stuffer like this very badly. They gave up too many big runs up the middle the last couple of years.
You saw Woods' potential impact today when he blew up an Izzy Abanikanda run up the middle. After the play, Jets' defensive line coach went apoplectic, yelling in joy and congratulating Woods for the play.
The Jets needed a big-bodied defensive tackle to play next to Williams on running downs, and the 340-pound Woods is just what the doctor ordered . . .
Will McDonald sat out of practice today, and had a compression sleeve on his right leg. Robert Saleh said McDonald has a contusion on his leg.
Watching McDonald on Thursday going against Mekhi Becton on a particular play, it kind of hit me how skinny he is. It almost a little dangerous for him to be entangled with Becton, who even at a reduced weight, has him by 100 pounds.
It's no secret, McDonald needs to get bigger and stronger, and at his current size, it might be tough to play him a lot on running downs . . .
As much as coaches try to protect players from big hits in these non-padded practices, they are going to happen occasionally, especially in pass coverage, with offensive and defensive players converging on the ball at the same time.
In a red zone drill, Zach Wilson threw a pass into the end zone to promising second-year receiver Irv Charles, who became an Irv Charles sandwich, when linebacker Chazz Surratt and safety Derrick Langford, went for the ball, coming from each side of the receiver.
Charles was slow to get up and was attended to by trainers. It didn't seem to be a lower-body injury because he walked off with no problem, but perhaps something in the upper body, like an arm or hand type of thing.
Nobody asked about it in Robert Saleh's press conference . . .
An example of why QB practice stats in training camp are so foolish:
Aaron Rodgers threw an incompletion down the deep left side to wide receiver Allen Lazard. There were two defensive tackles in tight coverage.
Training camp is for experimenting. Rodgers threw it up to an area to see if the 6-5 receiver could win a jump ball. He didn't, and it was knocked away.
But the media "stats" will call it an incompletion.
Would it be better if he didn't experiment now, early in training camp, for the sake of practice stats?
These QB training camp stats are Kabuki Theatre . . .
It's very hard to change throwing mechanics due to muscle memory.
We will see if Wilson can buck the odds.
There was a pass early in practice, where he rolled to the right, and threw a pass to a receiver (didn't catch the number), that was short-armed, and skipped to the player.
I'm not a QB coach, but sometimes it seems he tries to make throws with his body and doesn't plant his feet properly . . .
Safety Tony Adams had a nice PD on a pass from Rodgers to Mecole Hardman. After the play, a lot of defensive players were congratulating him on his terrific play. Then, one of the Jets' great leaders, cornerback Justin Hardee, came over and said. "T.A., stay humble."
Hardee, an Illinois product like Adams, is a terrific mentor to a lot of the young defenders.
July 21, 2023
Premium will return by 9:30 pm on Monday.