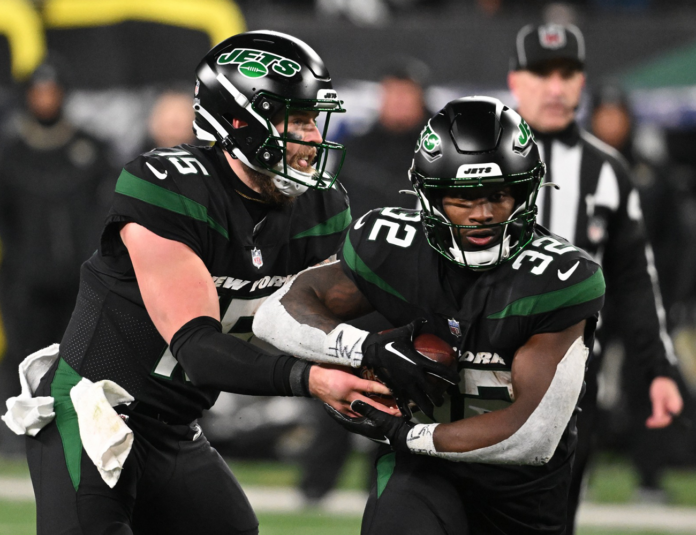 Content available exclusively for subscribers
Please subscribe now to unlock this article!
Watching the . . .
"Hard Knocks" cameras today, to me, it looks like the show is going to be like a national version of the Jets in-house behind-the-scenes show – "1 Jets Drive."
NFL Films will get some special access, but not to the degree that past "Hard Knocks" got.
For instance, once the mainstream media, like WCBS-TV or WABC-TV, are told no more shooting, when the scrimmage part of practice starts, the "Hard Knocks" cameras can keep shooting, just like the "1 Jets Drive" cameras can keep shooting.
Now whatever practice shots they decide to use, needs to be cleared by the team. An example of something they shot today – three players interacting on the sideline after a player, chatting it up. If they weren't talking strategy, but just general chit-chat, that is the kind of thing that can be used.
So you get the sense that "Hard Knocks" is just going to be "1 Jets Drive" on a larger scale . . .
Football is weird when it comes to injuries.
The Jets traded for a safety, Chuck Clark, who had not missed a game in Baltimore in five seasons, and he blew out his knee in OTAs ending his season. They drafted a safety, Jarrick Bernard-Converse in the 2023 draft, who started an astonishing 56 college games (I've never seen a number that high on the collegiate level), was a walking boot for the first day of camp. Even if you have a great history of staying healthy, you just never know when the injury bug will bite you in this sport . . .
Speaking of safeties, the Jets recently signed Adrian Amos after the Clark injury in OTA. But he was signed after the Jets' spring work was over, so we never saw him on the field.
Got to see him today. He is one powerfully built safety at 6-0, 214, muscles on muscles.
With Amos, who is building like a linebacker, and Jordan Whitehead who hits like a linebacker, you get the feeling that maybe the Jets could use another safety to emerge with great speed with cornerback skills to compliment them, and perhaps that is Tony Adams who runs 4.4,. Maybe it's "JBC" once he gets healthy . . .
There was a screen pass of some kind (you don't want to detail plays too much in training camp – the team doesn't like that) to Mecole Hardman. I was on the sideline pretty close to the play. Oh my goodness is this guy fast! I would hazard a guess that he's the fastest player on the Jets right now. To see him make the catch, put on his afterburners to head upfield – wow . . .
Two guys who could put up big numbers are receiver Garrett Wilson and tight-end Tyler Conklin, and you saw two plays in a short period of time that showed some ways Aaron Rodgers will connect with them. One of the things that makes Wilson so special is that he gets open very quickly, with his rare short-area quickness. He did that on a route early in practice today, cutting away from CB Michael Carter second after the snap, Rodgers hit him and he was off to the races. Remember a major part of the concept of the West Coast offense when Bill Walsh invented it, was hitting players in stride on slants, and if you hit them in stride, it allows for a lot of RAC. Walsh viewed these plays just like running plays. That is what happened on this route.
On the other play, Rodgers hit Conklin down the right seam, and the right end did a nice job high-pointing the ball. Conklin, a former college basketball player at Northwood University in Michigan, is very good at going up and getting the ball like a basketball forward going for a rebound.
Don't be shocked if both of these guys put up huge numbers with Rodgers.
July 20, 2023
Premium will return by 9:30 pm or sooner on Friday.