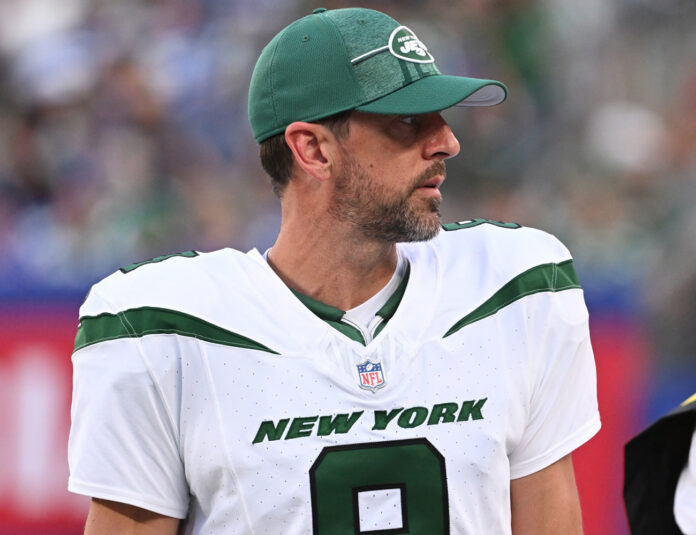 The Jets almost have two offensive coordinators – the man with the title, Nathaniel Hackett, and QB Aaron Rodgers.
Hackett calls the play and then Rodgers often goes to the line and works his mental magic.
He's the king of audibles, and few do it better. He's a master a diagnosing what a defense is in once he gets to the line, and often checks to a different play based on what his sophisticated eyes tell him.
You saw that a couple of times on the Rodgers-led TD drive against the Giants in the Jets' third preseason game.
Rodgers is a maestro at the line.
Former NFL center Shaun O'Hara, who knows a thing or two about line calls, recently provided some good insight on Rodgers' work at the line.
"Rodgers is going to have the freedom and ability to just change things and do what he wants to do at the line of scrimmage, put [the Jets offense] in the best position possible," O'Hara said on NFL Network.
Rodgers, who has a very high football IQ, is very good at not only reading defenses after the snap, but before it as well.
"There are times you come up to the line and you see things they are in on defense you were not expecting and you've got to be able to change gears right way, you've got to be able to shift and transition," O'Hara said. "Aaron has done it a lot in his career."
And done it well.
"Think about how many times you've seen him walk up to the line and take a quick snap and boom, throw the ball when it looks like it's supported to be a run play," O'Hara said. "He does this all the time.
If you want to get the best version of Rodgers, you need to let him go to the line and do his thing.
"He's got to have those liberties in order to let him take advantage of what the defense is giving him," O'Hara said. "This guy makes everybody better at the line of scrimmage."