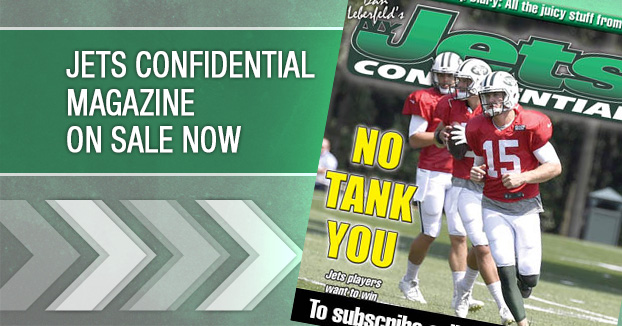 *FANS OF WEEK 5 MATCH-UP TO RECEIVE SPECIAL HALL OF FAME ADMISSION DISCOUNT FOR WEARING TEAM GEAR
CANTON, OHIO – The Pro Football Hall of Fame is inviting New York Jets and Cleveland Browns fans to experience "The Most Inspiring Place on Earth!" The Browns host the Jets this Sunday (Oct. 8) at 1:00 p.m. at FirstEnergy Stadium. The Pro Football Hall of Fame is less than an hour drive from Cleveland.
Any Jets or Browns fan dressed in their team's gear who mentions the promotion at the Hall's Ticket Office will receive a $5 discount on any regular price museum admission. Jets fans may receive the discount today through Monday, Oct. 9. The promotion runs all season long for Browns fans ending Jan. 1, 2018. The Hall of Fame is open from 9 a.m. to 5 p.m. daily. Information about planning a visit to the Hall of Fame can be found at: www.ProFootballHOF.com/visit/.
BROWNS IN CANTON
The Browns franchise has 16 longtime members enshrined in the Hall of Fame. They include: JIM BROWN (Fullback, 1957-1965, Class of 1971); PAUL BROWN (Coach, 1946-1962, Class of 1967); JOE DeLAMIELLEURE (Guard, 1980-84, Class of 2003); LEN FORD (Defensive End, 1950-57, Class of 1976); FRANK GATSKI (Center, 1946-1956, Class of 1985); OTTO GRAHAM (Quarterback, 1946-1955, Class of 1965); LOU GROZA (Tackle-Placekicker, 1946-1959, 1961-67, Class of 1974); GENE HICKERSON (Guard, 1958-1973, Class of 2007); LEROY KELLY (Running Back, 1964-1973, Class of 1994); DANTE LAVELLI (End, 1946-1956, Class of 1975); MIKE McCORMACK (Tackle, 1954-1962, Class of 1984); BOBBY MITCHELL (Wide Receiver-Halfback, 1958-1961, Class of 1983); MARION MOTLEY (Fullback, 1946-1953, Class of 1968); OZZIE NEWSOME (Tight End, 1978-1990, Class of 1999); PAUL WARFIELD (Wide
Receiver, 1964-69, 1976-77, Class of 1983); and BILL WILLIS (Middle Guard, 1946-53, Class of 1977).
Cleveland also has five Hall of Fame members who spent a minor portion of their careers with the Browns, including: DOUG ATKINS, WILLIE DAVIS, LEN DAWSON, HENRY JORDAN and TOMMY McDONALD.
JETS IN CANTON
The Jets have five longtime members enshrined in the Pro Football Hall of Fame, including: WEEB EWBANK (Coach, 1963-1973, Class of 1978), CURTIS MARTIN (Running Back, 1998-2005, Class of 2012), DON MAYNARD (Wide Receiver, 1963-1972, Class of 1987), JOE NAMATH (Quarterback, 1965-1976, Class of 1985) and JOHN RIGGINS (Running Back, 1971-75, Class of 1992).
New York also has seven Hall of Famers who spent a minor portion of their careers with the Jets, including: BRETT FAVRE, RONNIE LOTT, ART MONK, BILL PARCELLS, JASON TAYLOR, LaDAINIAN TOMLINSON and RON WOLF.
WHAT TO SEE AT THE HALL
The Hall is home to an extraordinary cutting-edge, multi-sensory immersive theater, "A Game for Life," featuring holographic representations of Hall of Fame legends JOE NAMATH, GEORGE HALAS, and VINCE LOMBARDI. The experience provides great inspiration to fans by showing them how the game of football also teaches lessons about life. The stories of numerous Hall of Famers, including JIM KELLY, STEVE LARGENT, ALAN PAGE, JIM BROWN, WARREN MOON and CURTIS MARTIN, are shared.
Guests visiting the Hall will enjoy seeing all 310 Bronzed Busts, including the new Class of 2017. They can also experience the Super Bowl Theater featuring the 2016 season capped by Super Bowl LI showcasing the New England Patriots' exhilarating victory over the Atlanta Falcons. The Lombardi Trophy for Super Bowl LII is now on display in the Lamar Hunt Super Bowl Gallery for visitors to enjoy throughout the 2017 season.
Browns fans can see numerous artifacts on display from the franchise's history, including: a jersey worn by Jim Brown in the 1960s adorned with the number 32; Paul Brown's warmup jacket featuring the Brownie Elf logo; and the autographed 1955 NFL Championship game used ball.
Jets fans can see several artifacts from the franchise's history on display throughout the Hall's Museum, including: a Jets cap worn by Ewbank during the first Monday Night Football game when the Jets played the Browns on Sept. 21, 1970; the shoes worn by Class of 2017 enshrinee Tomlinson during the final game of his Hall of Fame career on Jan. 21, 2012; and a Super Bowl III game ball autographed by the Jets the year Namath "Guaranteed" a Super Bowl victory.
*Press Release
---