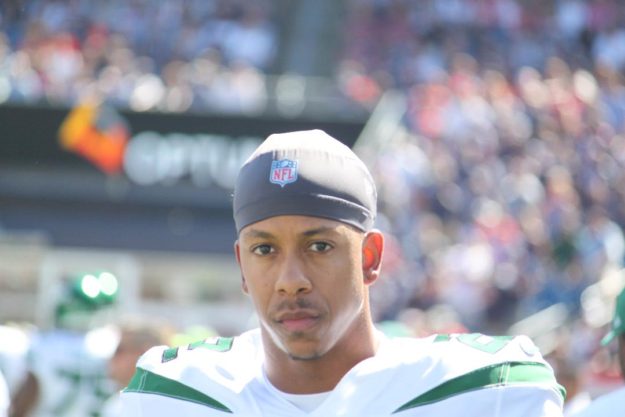 Them not thinking this was a big deal is surprising. There is an old saying in sports: "You can't teach speed."
Trumaine Johnson is a cornerback who runs like a safety. And you could see this was a problem right out of the gate, when in his first game as a Jet, Gang Green's 2018 opening-day win over Detroit, Johnson got beat by Lions receiver Kenny Golladay for gains of 25 and 26 yards on crossing routes.
In the Jets' loss to Jacksonville in 2018, he was beat for a 67-yard TD down the right sideline by speedster Donte Moncrief.
In the 2018 Jets-Cleveland contest, Johnson got beat deep by wide receiver Antonio Callaway, but Tyrod Taylor underthrew the ball.
"Antonio Callaway is a 4.4 forty guy and he can fly, there is no way [Johnson] was going to be able to make up the ground – the ball floated on [Taylor] allowing Johnson to get back underneath," said Fox's Troy Aikman.
"[Callaway] was clear of Trumaine Johnson by five yards," said Fox's Joe Buck.
This was a 4.41 guy, against a 4.61 guy, one-on-one, going deep. How can you expect this to go well? And honestly, when we talk about Johnson's 4.61 forty, keep in mind, he ran that at the 2012 combine. And after years of NFL wear-and-tear, he probably didn't even run that fast when he joined the Jets at the age of 28 in 2018.
People act like since he was paid a fortune, he should be able to hold up on an island with anybody. That's flawed logic because you can't teach speed. Johnson is speed-challenged, and this is something the Jets' former regime should've considered before giving him $34 million in guaranteed money.
************************************************************************************
Don't forget to pick up a copy of the Jets Confidential free agent preview issue at convenience stores now. The most in-depth Jets' free agent preview anywhere. To subscribe, click below, or call 1-800-932-4557 (M-F, 9-5). A must-read for Jets fans. Makes a great birthday gift. Blunt, but fair.
---