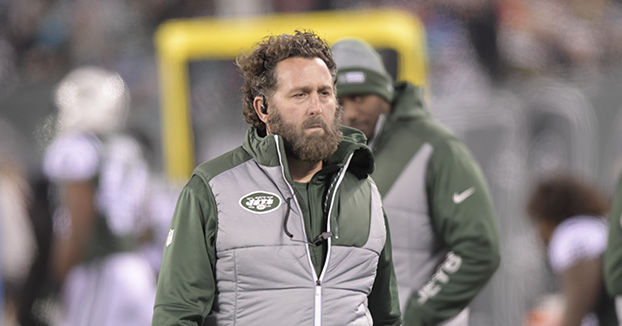 Florham Park – Jets standout running back Bilal Powell hurt his calf in Cleveland.
Watching him the last couple of days in the media portion of practice, it looks like he's a long shot to play against New England this Sunday.
On Thursday, his teammates were wearing shoulder pads and he wasn't.
Also on Thursday, when the media half-hour of practice was ending, Powell headed to the rehab area to work with trainers (Jets head trainer John Mellody pictured above), not to where his teammates were practicing.
The San Diego Union-Tribune does a great job of reporting and analyzing NFL injuries. Here is what they reported on Powell's injury suffered at the end of the first half in Cleveland:
"It appears Powell suffered a significant calf strain," wrote Kevin Acee and Dr. David Chao. "He limped off flat-footed and did not contract his calf muscle or push off on the ball of his right foot. The problem is that calf injuries tend to linger, especially for explosive athletes. A running back needs a healthy calf to run on his toes and plant and cut."
They added, "It could easily be several weeks before he returns, and it could be December before Powell puts this behind him."
So clearly Powell is a long-shot to play this week.
---