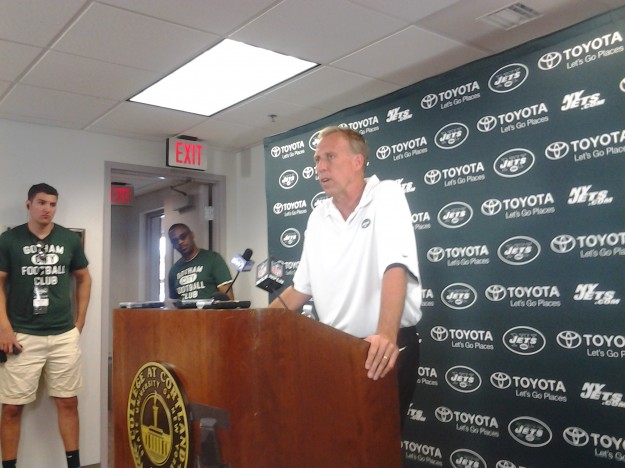 Cortland – Dan checks in from Cortland with a truckload of Whispers from Saturday's practice. Let's get it started, let's get it started . . .
In the spring, there was a lot of criticism of Jets receivers for drops, and some wondered if Jets should get a bunch of new receivers.
They did sign Braylon Edwards to bolster the unit, but I have to say, the hands of the receivers, collectively, has been pretty solid the first two days of practice.
There really is some pretty good young talent in this large group, and the Jets are going to have some tough decision when they have to cut down the roster.
Virginia Tech's Marcus Davis has a lot of ability.
Bethune Cookman's K.J. Stroud had another nice grab today – way down field. He did a really nice job of posting up a cornerback to grab the ball . . .
The crowd went crazy today when Geno Smith hit Clyde Gates on a deep ball down the right side. It was a good throw, but you have to keep in mind, it was a blown coverage, and there was nobody near Gates.
A fan yelled after the play, "That is the way it's done, Mark."
Yes, that is the way it's done – when a receiver is wide open, you should complete the pass to him.
There is a really bad vibe right now between Sanchez and Jets fans.
I tweeted before "@jetswhispers With so many fans in attendance at Cortland, Geno Smith can do no wrong."
And Sanchez can do no right. It also seems so many fans are giving him no margin of error. He's not allowed to make mistakes.
Geno's mistake are okay, but Mark's aren't.
It seems like they want Smith to start, even if he's not ready.
And if Sanchez does start, you get the sense, the second he makes a mistake, or two, in the Tampa Bay home opener, the "Geno" chants are going to start.
I just think it's an unhealthy situation. Hey, I've been as tough on Sanchez as anyone, but I think this concept that you start Geno, before he's ready, to appease the fans and media, is foolish . . .
Greg McElroy is constantly beat up over his arm strength, but today he actually overthrew two players on deep passes.
McElroy had a real nice throw to Braylon Edwards on a quick slant.
On this play, Kyle Wilson rocked Edwards – it was the biggest hit of the practice.
This is the kind of hit that gets teams in trouble with the NFLPA. Wilson meant no hard here, but just the way things lined up, he hit Edwards way too hard for a practice that had no hitting. Remember this was one of those practices where the players were in "shells" which means shoulder pads, helmets and shorts. It wasn't a padded practice . . .
UConn linebacker Danny Lansanah continues to do good things. Yesterday, he had a Pick Six on Matt Simms, and today he stopped a runner in the backfield.
On another player, he covered a wide receiver effectively way down field.
The former Green Bay Packer and UFL player has good instincts.
And the Jets need an inside linebacker who can cover like Lansanah.
Inside linebacker coverage hasn't been a strength of the Jets the last couple of years.
Honestly, I have to say, David Harris had a below par practice in coverage today.
I'm not saying Harris is going anywhere. He's clearly going to start, but he needs a partner inside with good wheels and coverage ability.
That is why they picked DeMario Davis, but the jury is still out on his instincts . . .
You get the sense the Jets are very high on OLB Ricky Sapp.
On many occasions today, Sapp and Antwan Barnes were starting at OLB . . .
I've said it before, and I'll say it again, this whole story about Quinton Coples moving to outside linebacker has been blown way out of proportion.
Will he line up there on occasion as a gimmick – absolutely, but most plays today, in the base defense, he was at 3-4 DE.
And that is where he will likely be most of the time this year . . .
John Idzik addressed the media today, and was asked a lot of Mike Goodson and Dee Milliner questions.
Idzik was asked about the Jets doing their due diligence on Goodson before signing him, and he claims they did.
I do think Idzik is a due-diligence kind of guy, but on this one, I don't think his team did their proper due diligence.
Like I said the other day, it's okay to sign a risky guy like this, but with his long list of indiscretions, YOU DO NOT GIVE HIM A SIGNING BONUS.
As for Milliner's holdout, it doesn't sound like Idzik has any intention of backing away from his demand for off-set language in the contract.
This seems to be the sticking point.
Off-set language means that if a player gets released before his contract is up, and he gets signed by another team, and signs for let's say $500,000, the original team isn't responsible for that money, and it cuts into what they owed the player.
Considering Milliner's injury history, I think Idzik is smart to demand off-set language in the contract.
July 27, 2013
Premium will return by 7 pm on Sunday.
---