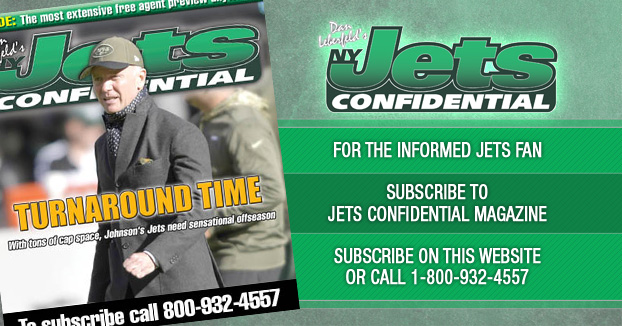 Content available exclusively for subscribers
Please subscribe now to unlock this article!
I don't like to write a lot about
schedules because so much can change between now, and when these games actually take place.
A game that could look tough now might end up being easy due to a team having myriad starters injured.
A game that could look tough now might end up being easy due to the team losing their starting QB.
But on paper, based on what we think these Jets' opponents are going to be, the Jets' schedule isn't the bear it was last year.
First off, the Jets don't have a the slate of quarterbacks they had last year, when they faced Matt Ryan, Drew Brees, Cam Newton, Alex Smith, Derek Carr (before he went into a slump) and of course Tom Brady twice.
When you combine a schedule like this with a substandard pass defense compounded by the lack of a top-shelf edge rush, you get 5-11.
This year, the quarterbacks who the Jets should face (barring injury) aren't as daunting. Aside from Brady and Aaron Rodgers, it's not a crazy list.
It's unclear if Andrew Luck will play, Matt Stafford is okay, but his accuracy is average and he's never won a playoff game. Kirk Cousins. Very good, but we will see if he can be elite, because that is how he's being paid.
But aside from the quarterbacks on the schedule, the Jets pass defense should be better this year with the combo of Trumaine Johnson (a true #1 cornerback) and Mo Claiborne (a very good #2 if he can stay healthy). They have a bunch of candidates for the 3 and 4 spots, though I think Buster Skrine will be in one of those spots because he's beyond reproach with the decisions-makers. But he won't start like he did last year. And the two young safeties should take a big leap in year two.
So easier QB schedule and better secondary should lead to better results.
Hey, it's a quarterback-driven league. So when you have a schedule loaded with good opposing quarterbacks, and you struggled with pass defense (in the secondary and at linebacker), and you don't have much of a pass rush, it's hard to be successful. And you saw that manifest itself with the 2017 Jets.
I really do believe that the 2018 New York Jets are going to be pretty good.
I think Josh McCown has another good year in him, and McCown and the team's new offensive coordinator, Jeremy Bates, are very much on the same page. They have hand and glove chemistry. This kind of chemistry in these two jobs is very important in the NFL.
And the overall roster, not just starters, but the depth should be much better for Gang Green in 2018. If the Jets suffer some injuries, considering all the young veterans they signed in free agency, who can fill backup roles, they should be able to keep things rolling if they suffer a few injuries.
That applies to quarterback also where Teddy Bridgewater gives them a backup with a lot of starting experience. The Jets backup plan last year was ill-advised with two green, raw guys in the #2 and #3 spots.
And another reason the Jets should be pretty good in in 2018 is their schedule doesn't look like a killer.
Like I said, things can change based between now and the games, but on paper, it looks like a very manageable schedule.
April 20, 2018
Premium will return by 9:30 pm on MOnday.