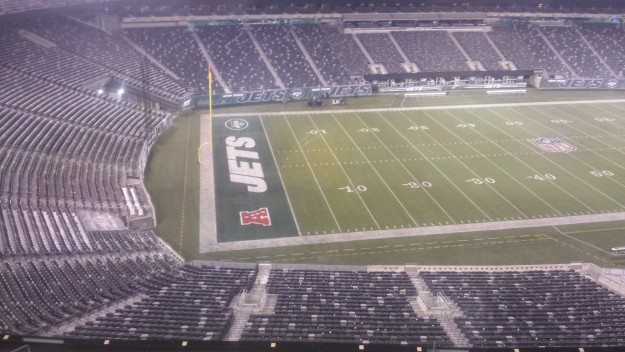 East Rutherford, New Jersey – A lot of interesting action at "The Met" tonight in a Jets practice at their stadium. Website Whispers coming at you . . .
Trevor Reilly continues to make a lot of plays.
In the practice tonight, on one series, he stopped Daryl Richardson for no gain on two running plays.
"He has a big motor," said Todd Bowles . . .
The Jets receiver injuries are starting to pile up. Chris Owusu (concussion), Shaq Evans (ribs) were out tonight, and Walter Powell pulled a muscle tonight, and Geno Smith said after the game something happened to T.J. Graham.
So this opened up more opportunities for Austin Hill, and the guy continues to show he's a legitimate talent.
He caught a pretty deep out from Bryce Petty on the left side.
He has soft, natural hands and almost never fights the ball.
He's not just camp fodder . . .
Petty has a lot to work on as he transitions from Baylor's simplistic offense to being an NFL quarterback, but one thing he won't to work on is his arm strength.
In order to be a successful NFL quarterback, you have to be able to throw the deep out effectively, and Petty does a nice job with this throw.
One of the better passes of this practice was a deep out to Quincy Enunwa over the outstretched arms of linebacker Joe Mays who was covering the underneath zone. It was a great throw . . .
The Jets first-year offense under Chan Gailey is clearly still a work-in-progress.
On an incomplete pass from Geno Smith on the left side, Brandon Marshall was running a mid-range out, and Eric Decker was running a deep out, and the quarterback threw the pass to a landing spot right between them. There was major confusion on this play. Either somebody ran the wrong route, or Geno threw to the wrong spot.
The good news for the Jets is that it's still early in camp, and they have another month of practice, and four preseason games, to work the kinks out. The play was teachable moment, along with a pass a few plays later, where Geno threw deep down the left sideline and Marshall ran a shorter route . . .
Eric Decker is quietly having a really good summer. He's definitely benefiting and enjoying the extra attention that Brandon Marshall draws on the other side. Marshall's presence has allowed Decker to settle back into a secondary receiving role, which is a better fit for him. He put up big time numbers in Denver playing opposite superstar receiver Demaryius Thomas . . .
There was a play in the middle of this practice where you saw Leonard Williams rare ability on display.
Geno Smith attempted to run a bootleg to the right side, and Williams looked like he was shot out of cannon tracking him down and forcing him to get rid of the ball before he wanted to. He had much less time on this kind of play than a quarterback usually gets. Williams' mobility for a man his size is rare.
Williams also had a really impressive play in a one-on-one drill against Willie Colon, using his quick hands to shed the guard quickly and get by him.
It's still shocking that this guy lasted until the sixth pick of the draft.
August 8, 2015
Premium will return by 9:30 pm on Monday.
---