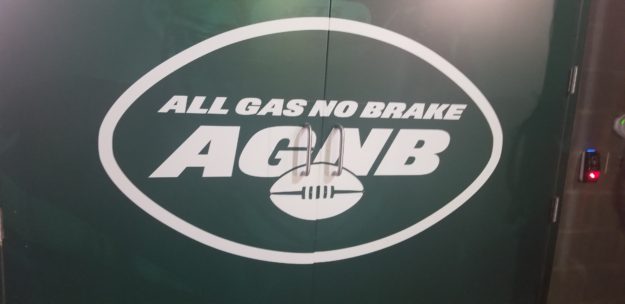 Q: Did you ever think the fans would be chanting your name today?
Mike White: No, I did not. Going out and watching film on them to begin the week and see what they did on defense, I knew there'd be completions out there and I knew it was just a matter of making the right decisions and guys running great routes and tight turns and catching the ball and getting those extra yards and that's what we did out there. I think that's what led to the success of the offense.
Q: Did you guys plan on throwing a lot underneath a lot?
White: Yeah, I think that's according to what the defense plays. They play a lot of zone and they don't like to let guys get behind them. I know we got behind them one time with Elijah (Moore) and I missed the throw and there was a holding penalty, but I think we did a great job of taking what they gave us and executing the play calls and executing the plan that (Mike) LeFleur drew up for us and I think with this offense, you've got to execute within the offense and stay in those third and manageables and first down, second down, third down, and that's what the result can be.
Q: What can you say about Mike LaFleur's game plan?
White: Mike came to me on Saturday and called me and said he was going to let it rip to start the game because he thought that with a backup getting his first start and they would be tight and not let us run the ball, so I think that was awesome. We were able to soften them up and we got our run game going and screen game and when they were getting real soft we'd check it down and Michael Carter and Ty Johnson were making great runs after the catch. I think the decision to cut it loose early kind of caught them off guard and we were able to execute the offense from then on.
Q: What happened on the play you got hurt?
White: Yeah, someone hit me from the back and my head ran into someone else and my neck was just a little sore but that was pretty much it. We put some Tiger Balm on it and I was ready to roll.
---