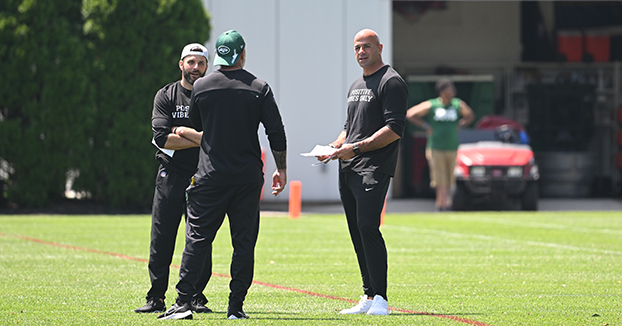 Content available exclusively for subscribers
Please subscribe now to unlock this article!
Waxhaw, NC – This was an impressive . . .
play from the Jets' Wednesday practice against the Panthers that went under the radar.
With some injuries at cornerback, rookie free agent Derrick Langford, got more playing time and had a terrific PD on a go route down the right sideline.
A tall corner at 6-1, he played at Washington State where he had two picks in each of this last two seasons. He had a pick-six against Arizona last year. He ran a 4.47 at WSU's Pro Day for NFL scouts . . .
A lot of talk about concerns regarding the Jets' offensive line this week.
One reason (among a few), this story became bigger this week was a three-and-out by the Jets offense, with Aaron Rodgers and the first-team offense on the field, at the end of the Wednesday practice against Carolina. There were protection issues on this possession.
The way I look at the Jets' offensive line situation is simple:
Four spots should be fine. The interior positions should be solid with guards Laken Tomlinson and Alijah Vera-Tucker, and center Connor McGovern, who will likely start earlier in the season as they develop Joe Tippmann. I also think their right tackle spot should be fine. Billy Turner and Max Mitchell are probably not ideal left tackle fits, but they both can play right tackle, and Turner has started many games at the position over the years.
Watching Mitchell in practice, while he has taken some reps at left tackle, right tackle seems like the better home for him, the position he played the most during his college career at Louisiana. He has had some protection issues in camp, especially against Jermaine Johnson. He's a tenacious run-blocker, who could make a very good NFL right tackle.
So Turner or Mitchell can handle the right tackle job.
But left tackle is the bigger question mark.
Mekhi Becton is on a pitch count in camp and running with the second team as they ease him back into things. He's still getting comfortable with the new reality of his right knee.
"That's what this whole camp is about, is to get him mentally connected to that knee, so he's got full confidence in it," Jets coach Robert Saleh said Wednesday in Spartanburg.
As for Duane Brown, if I were to tell you I know what is going on with him right now, I'd be lying. Yes, he's on the PUP list after off-season shoulder surgery, but it's unclear when he's coming back.
And like I mentioned the other day, he wasn't working on the rehab field, doing sprints, the last few practices in Florham Park before leaving for South Carolina.
Earlier in camp, he was out there doing a lot of stuff with trainers.
This might mean squat, but just letting you know this fact.
Look, we are talking about a left tackle who turns 38 at the end of this month, coming off rotator cuff surgery. And let's not forget in 2016, he suffered a torn quad. So older player, who has had two major surgeries in recent years, and 215 NFL starts, there is a lot of wear and tear.
Only Brown truly knows how his body feels. Look, he could be fine, but until we see him out there performing, it's hard to say.
So, to me, four spots on the line should be fine, but the left tackle spot is a bit of a question mark right now due to medical concerns.
Some are pushing for Alijah Vera-Tucker to move out there.
I would not do that.
This guy has a chance to be a Hall-of-Fame level guard if he stays healthy. He's looked really good in camp back at guard.
The bottom line is Vera-Tucker, while he can play tackle as we saw last year, is a good tackle, but a great guard.
August 11, 2023
Premium will return by 9:30 pm or sooner on Monday.