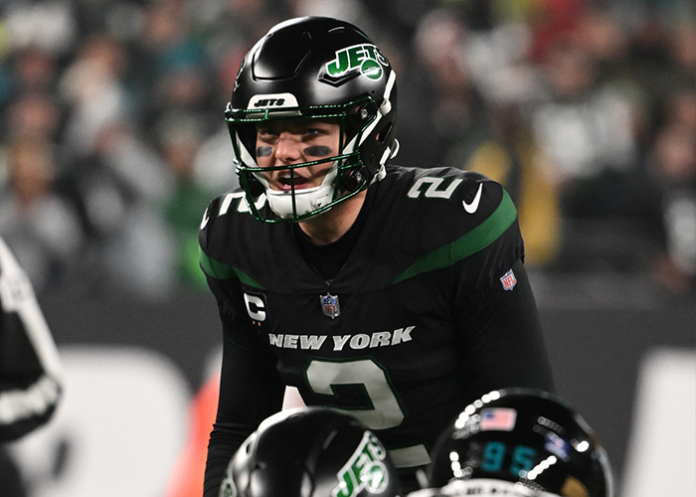 Content available exclusively for subscribers
Please subscribe now to unlock this article!
Rave reviews
Robert Saleh on Zach Wilson's summer:
"His growth has been phenomenal," Saleh said.
While it's understandable that the coach wants to be super-positive to help Wilson's confidence, which wasn't in a good place at the end of last year, some might argue that "phenomenal" is a little strong.
There are still a lot of check downs and scrambles.
Has he improved? Yes, there is some improvement, but he's still got a long way to go.
As we mentioned on Monday about the Carolina preseason game:
Wilson threw a screen pass to Michael Carter on the left side that went for 25 yards, a bootleg right to Jeremy Ruckert that went for 15 yards, a 17-yard screen left to Izzy Abandikanda, and a two-yard bootleg left to Kenny Yeboah for a touchdown. Four easy passes were his biggest plays.
What Wilson needs to do moving forward, is show he can sit in the pocket, go through progressions, and make more NFL QB-level pocket throws. You can only go so far with wide-open bootlegs, and by throwing screen passes.
"He's going to be in this League for a long time and he's going to start for a long time," Saleh said.
It will be interesting to see if the Jets pick up his fifth-year option next year. Perhaps if they feel that Rodgers is going to retire after two years, they will do that.
"He just learning so freaking much," Saleh said.
We will find out a lot about Wilson in the third preseason game against a very solid Tampa Bay defense . . .
Saleh is very high on Jordan Whitehead:
"He is so good for this defense and it just suits him so well and the way he plays and communicates and his mindset, and he's having a great camp, no different than he did last year, so just expecting to have even a better season with all the comfort in the system, but just to continue doing what he's doing. Jordan, he's awesome," Saleh said.
Big-time hitter, but needs to be more consistent in coverage. Tampa Bay often took him out on third down due to their concerns with his pass defense. He spent his first four seasons with the Buccaneers . . .
The Jets' best coverage linebacker in camp has been rookie Zaire Barnes, and I'm talking about all of them, rookies and veterans. He had another PD on Thursday, breaking up a quick slant . . .
Will McDonald beat offensive tackle Tristan Wirfs for a QB pressure on Wednesday. McDonald continues to flash as a pass rusher with elite first-step quickness . . .
Jets rookie free agent cornerback Derrick Langford had a pick on Tampa Bay QB John Wofford at practice on Wednesday . . .
We talked about all the great mentoring Jets rookie center Joe Tippmann is getting from veteran centers like Connor McGovern and Wes Schweitzer in camp. Well you can throw in somebody else – New York Jet director of player of development Dave Szott, a former outstanding NFL guard, was seen talking to him for a long time on the field the other day.
Tippmann getting a lot of extra help, on top of what he's getting from line coaches Keith Carter and Ben Wilkerson and he's absorbing all of it like a sponge.
August 18, 2023
Premium will return by 9:30 pm on Monday.