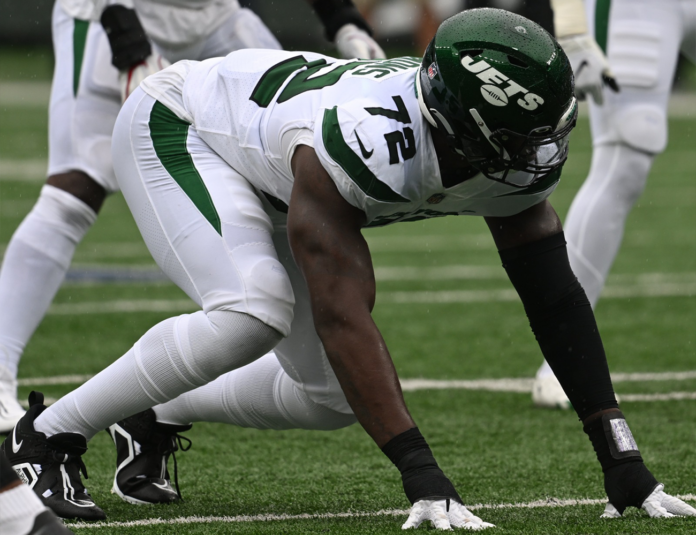 Content available exclusively for subscribers
Please subscribe now to unlock this article!
Jets defensive end Michael Clemons bulked up this off-season to the 290s, gaining around 30 pounds of weight and muscle, and will move inside to defensive tackle on some plays.
But one thing I noticed this summer, with the bigger Clemons, is that he gives up the edge sometimes, because with more size, sometimes running backs can out flank him to the outside.
It's not a lack of effort. His motor is great, but with more weight, he might have lost a little of step to get to the outside to deal with quick backs.
Just something to keep an eye on . . .
The Jets have two veteran backup linebackers on the roster right now –  Sam Eguavoen and Nick Vigil – who will play for other teams once they are released, which is likely.
They are both NFL-quality linebackers, who have been around the league for a while. You can tell watching them in practice they know what they their doing . . .
Seeing Izzy Abandikanda walking around, and training on the rehab field, he doesn't seem like a player who is going to be out long.
When he was down for several minutes on the field after getting hurt in the Tampa Bay preseason game, it looked like a very serious injury leg injury, but now it doesn't seem as bad. It's a thigh bruise, and he should be back pretty soon . . .
Jermaine Johnson flashed at times this summer, and somebody doing a feature on him asked Robert Saleh some question about him on Thursday, and here is what the coach had to say:
"He's made plays in games; he's made plays in practice," Saleh said. "He looks fantastic. I am excited for him to get into the regular season for him just so he can start translating all that to, not necessarily real football, but he's done a really nice job. For those guys, you just cheer him on to just hope that he keeps taking those steps.
"Yeah, he's an old school in the sense that he's a three-down, run defender, edge rusher. I'd argue his ability in the run game is even better than his ability in the pass game, which not to knock his pass game ability, but he is very violent at the point of attack. Especially if he's got a tight end in his hands. He dense edges, collapses edges, can two gap get from the edge. He's very impressive in the run game."
He's worked hard to improve, but the proof will be in the pudding.
He wasn't great against the run last year, and if he was better against the run in practice this summer, you need to take that with a grain of salt, because there is no tackling in camp.
Aside from that great play where he tracked down Buffalo's Josh Allen from behind for a highlight film sack, his rookie year was somewhat pedestrian.
He worked hard this off-season to take a quantum leap in Year Two.
But all that stuff about the run, let's wait to see it in the games.
Saleh put it best when he said they "Just hope that he keeps taking those steps."
I'm not saying he won't, but let's see what he does when the real bullets are flying in the regular season.
All, I'm saying – let's not put him in Canton based on his camp.
August 25, 2023
Premium will return by 9:30 pm on Monday.