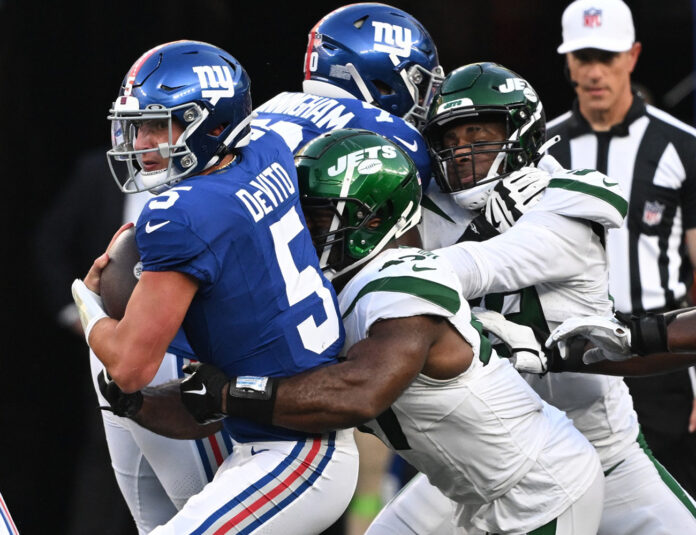 Thanks to the Jets appearing on "Hard Knocks," two Jets rivals could have extra chips on their collective shoulders entering contests with Gang Green this season.
First Jets defensive coordinator Jeff Ulbrich said in a private meeting with his defense:
"It's the mantra of our defense: Make a motherf***er earn every yard," Ulbrich said to his players. "Do my job, is that good enough? F*** no. That's the rest of the NFL, isn't it? 'Do your job. Do your job.' F*** that. Do your job, then now what? If we all do our job and a f***ing little bit more, that's 22 (players) playing."
Boston Herald headline – "Jets coach mocked Patriots 'Do your job' mantra on 'Hard Knocks.'"
If you don't think Bill Belichick is going to use this as cannon fodder before the Jets play New England on September 24, you are kidding yourself.
ESPN Headline – "Giants' Jihad Ward miffed by 'Hard Knocks' portrayal of Aaron Rodgers interaction."
In the Jets-Giants preseason game, Jets wide receiver Randall Cobb was flagged for a blindside block on Giants Bobby McCain that left the safety concussed. "Hard Knocks" showed some joking with Cobb about the hit in a private huddle.
"Everybody going to get pissed off at that," said Ward, a defensive end. "The whole team was pissed off, you know what I'm saying? It's preseason and all that stuff and you're going to do some reaction like that? It's cool, though. That's how they roll. I think we play them soon, it is what it is."
The Jets play the Giants on October 29. This "Hard Knocks" scene will certainly be bulletin board material.
Now, you can avoid providing this kind of material that ticks off opponents by telling producers to not include these scenes.
Will this stuff impact the final score in these games? Probably very little or not at all.
But this is what can happen when you are forced to put cameras in private meetings and huddles.
Why do you think so many teams don't want to do it?