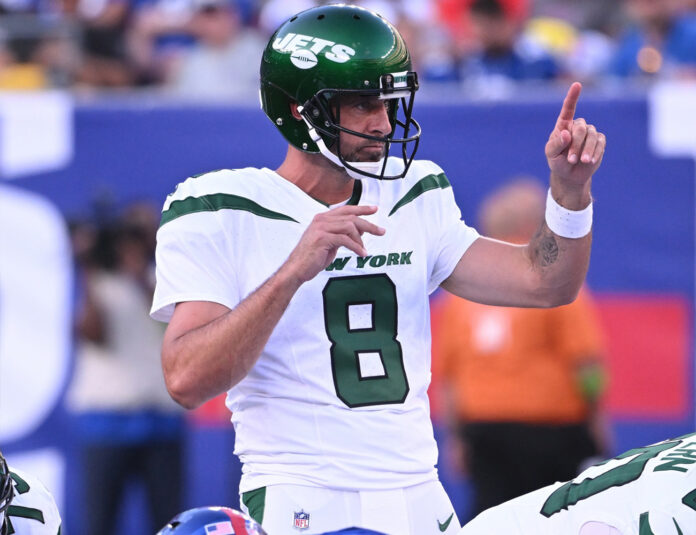 Content available exclusively for subscribers
Please subscribe now to unlock this article!
Don't always agree with his takes, but on this one, I think he's spot-on "At the end of the day, it comes down to Aaron Rodgers with Gang Green," said Stephen A. Smith on First Take. "There is no question about it. If Aaron Rodgers doesn't bring his A-Game, all the aspirations everyone is talking about with them, they are not going to come to fruition, are not going to happen."
I could not agree more.
Yes, they have a pretty talented roster aside from him, but if he's vintage Aaron Rodgers, they could perhaps win 10-11 games and compete for the division title or a wide card, but without him, the record could be reversed.
So I totally get what Smith is saying.
There are 5-6 quarterbacks in the NFL, who are capable of putting teams on their back, and when things aren't perfect around them, they can still consistently lift teams to wins.
There were seasons when Tom Brady and Peyton Manning were in their primes, where their teams went let's say 13-3 or 12-4, where when you looked at the team's injury report, or weakness at a certain position, you could argue, that the teams could have been 3-13 or 4-12 without them.
The ability of certain elite quarterbacks, to be the rising tide to lift all boats, is incredible.
The Jets have one of those guys.
Do you realize that in 2021, Rodgers won the NFL MVP Award with his franchise left tackle, David Bakhtiari, missing all but one game due to a knee issue.
So his Pro Bowl-level blindside protector was out all year, and he freakin won the league MVP Award? Do you know how impressive that is?
Most QBs, with a backup left tackle, lose some of their moxy because they can't trust their all-important blindside. Not this guy, he goes out and wins the league MVP.
Yes, the Jets have other talented players, like Garrett Wilson, Alijah Vera-Tucker, Quinnen Williams, Sauce Gardner and so forth. However, without a franchise QB, even if you have a stacked roster at other positions, you are still likely going to have a substandard record.
Keep in mind, with all the players I mentioned above, and other good ones not mentioned, this team lost their last six games year.
And their backup QB didn't throw a TD pass in four preseason games. Stenographers can praise that QB for the summer he had, but the bottom line is he didn't get the team in the end zone once.
So this is about Rodgers people.
Watching some teams in the preseason around the league, and their QBs perform in the exhibition games, you can tell they have no chance to do much this year.
This is such a QB-driven league, that if you don't have a legit answer under center, you are toast even before leaving the starting gate.
The Jets have one of those guys that gives them a chance to win every game.
And if he does his thing, they should have a really good season.
If he doesn't, they probably won't.
SAS is one to something here.
September 1, 2023
Premium will return by 9:30 pm on Monday.